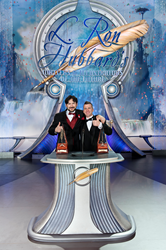 Hollywood, CA (PRWEB) April 15, 2014
Twenty-five writers and artists from around the globe were honored Sunday night, April 13th, at the 30th Annual L. Ron Hubbard Achievement Awards at the prestigious Wilshire Ebell Theatre in Los Angeles, California. The two grand prize honors were captured by Randy Henderson of Kingston, WA who was awarded the The Golden Pen Award and a $5,000 cash prize and Trevor Smith of Tucson, AZ who was awarded the The Golden Brush Award and a $5,000 cash prize.
The 12 Writer winners included:

Liz Colter of New Castle, CO
Jessica Eanes (Pen Name: Anaea Lay) of Madison, WI
Darren Eggett (Pen Name: Paul Eckheart) of Bountiful, UT
Amanda Forrest of Gunnison, CO
Cregg Hardwick (Pen Name: C Stuart Hardwick) of Houston, TX
Oleg Kazantsev of Chicago, IL
Leena Likitalo of Helsinki, Finland
Terry Maulhardt (Pen Name: Terry Madden) of Oak View, CA
Kathleen Miller (Pen Name: K.C. Norton) or State College, PA
Megan E. O'Keefe of Concord, CA
Shauna O'Meara of Weston, Australian Capital Territory
Randy Henderson of Kingston, WA
In addition, writer Timothy Jordan of Fort Myers, FL was honored as a published finalist.
The 12 Illustrator winners included:
Cassandre Bolan of Carlisle, PA
Adam Brewster of Edinburgh, UK
Vincent-Michael Coviello of Norton, MA
Kirbi Fagan of Plymouth, MI
Vanessa Golitz of Köln, Germany
Kristie Kim of Raleigh, NC
Seonhee Lim of Long Island City, New York
Sarah Webb of Fairbanks, Alaska
Bernardo Mota of Setubal, Portugal
Trevor Smith of Tucson, AZ
Andrew Sonea of Ottawa, Canada
Michael Talbot of Framingham, MA
The annual event celebrated the winners in the L. Ron Hubbard Writers and Illustrators of the Future Contests before a packed hall of nearly 1,200 guests and thousands more who were logged on to watch the event as it streamed live. A unique characteristic of the Hubbard Achievement Awards event is its use of music and dance to both complement and celebrate writing and art. The evening's event opened with a beautiful original song dedicated to writers and artists entitled "Living Off the Page," performed by Drew Seeley and Cassie Simone, with choreography as performed by the troupe Hollywood Hotshots. The night's keynote speaker was Mr. Leland D. Melvin, former NASA Astronaut and Associate Administrator for Education at NASA Headquarters. Melvin participated in the STS-122 Atlantis (February 7 – 20, 2008), the 24th shuttle mission to visit the International Space Station, and the STS-129 (November 16 – 29, 2009), the 31st shuttle flight to the International Space Station. Melvin was also chosen the Detroit Lions in the 11th round of the 1986 NFL college draft.
The other evening guest speaker was Mark Lefebvre, Director, Kobo Writing Life & Author Relations, who presented a new Kobo reading device to each of the winners, loaded with the Writers of the Future, Volume 30.
Celebrity presenters included:
Nancy Cartwright (Emmy Award Winner, The Voice of Bart Simpson on "The Simpsons" and Charles "Chuckie" Finster, Jr. on "Rugrats")
Anna Easteden ("Star Power," "3 Wise Women," "Two and a Half Men")
June Scobee Rodgers (CEO of Challenger Space Centers; wife of the late commander of the Challenger Space Shuttle, Dick Scobee)
Kylin Rhambo (Dink Meeker in the Science Fiction movie, "Ender's Gamer," "The First Family," "Criminal Minds")
The event celebrated the annual winners in the L. Ron Hubbard Writers and Illustrators of the Future Contests, where twelve writer and twelve illustrator winners, and one writer finalist—who made it further than some several thousand others who entered the international competition—saw their story and artwork published in the bestselling Science Fiction anthology series – L. Ron Hubbard Presents Writers of the Future Volume 30, now available online at Amazon.com, KOBO.com and BN.com and soon to be available in print wherever books are sold.
With writers and illustrators coming from all walks of life, the winners attended a week long workshop taught by contest judges —including New York Times bestselling authors Dave Wolverton (Runelord series) and Kevin J. Anderson (Dune series), World Fantasy Award winner Tim Powers (On Stranger Tides, adapted as the 4th Pirates of the Caribbean film), multiple Hugo and Nebula award winner Robert J. Sawyer (Flash Forward and The WWW Trilogy), Hugo and Nebula award winning author Larry Niven (the Ringworld series), and internationally acclaimed artists, Stephen Hickman (over 350 book and magazine covers), and Cliff Nielsen (cover artist for Chronicles of Narnia)—each one an experienced professional in the field providing sound advice based on hard-won experience.
Each writing and illustrating contest winner was presented their trophy by contest judges at the ceremony and combined cash prizes and royalties of over $30,000, and their story with artwork published in the L. Ron Hubbard Writers of the Future Volume 30.
The Writers of the Future writing contest was initiated by L. Ron Hubbard in 1983 to provide a means for aspiring writers to get that much-needed break. Due to the success of the Writing Contest, the companion Illustrators of the Future Contest was created in 1988.
The intensive mentoring process has proven very successful. The 348 past winners of the Writing Contest have published 838 novels and nearly 4,000 short stories. They have produced 27 New York Times bestsellers and their works have sold over 50 million copies.
The 276 past winners of the Illustrating Contest have produced over 4,500 illustrations, 356 comic books, graced 594 books and albums with their art and visually contributed to 36 TV shows and 46 major movies.
For more information and to see the awards ceremony online, go to http://www.writersofthefuture.com