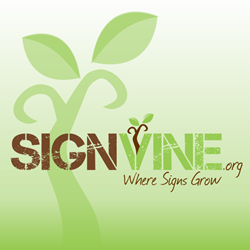 We're not stopping the search; we welcome more sign companies to contact us today.
Ontario, CA (PRWEB) April 16, 2014
SignVine.org is a specialized crowdfunding website that provides churches, civic groups, and other deserving nonprofit organizations their own unique webpage for fundraising online from the local and national community towards the purchase of an outdoor message sign. They can tell their story or cause, show pictures and inspirational videos, and share updates to their online community.
Today, Mike Prongue, Campaign Director for SignVine, announced the addition of seven sign companies to the SignVine team helping the organization broaden its support base and reinforce its effectiveness.
"We're pleased to announce the addition of Complete Signs in Dothan, AL; KC Sign and Awning in Aston, PA; Advantage LED Signs in Houston, TX; Akers Signs in Canton, OH; Vantage LED in Corona, CA, along with Focus Digital Displays and Spectacular Media, both in Round Rock, TX."
Paul Martin, Project Director for SignVine, emphasized the importance of selecting high-caliber, first-class partners, "The companies, or 'Builders', selected to support us were carefully chosen for their commitment to provide a quality product as well as customer service, financial stability, and overall integrity in the industry. And, we're not stopping the search; we welcome more sign companies to contact us today."
Finding a reliable 'Builder' is just part of what SignVine does to help nonprofits achieve their goal of an outdoor message sign. SignVine will also issue press releases, help prepare a promotional video, compose the story behind the nonprofit's cause, work with media outlets to promote the campaign, and provide guidance, tools, and marketing support to ensure the funding goals are met. The website serves as a central location to receive donations online and display the campaign's progress as well as showing updates from the nonprofit, a list of people who donated (anonymous allowed), and motivational comments.
"SignVine is not an 'all or nothing' crowdfunding concept. All monies collected, whether the goal is achieved or not, is given to the nonprofit to bring them closer to their goal of purchasing an outdoor message sign. Maybe it just softens the blow to their budget. Either way, it's a great way to get the community involved during the process," Martin summed up.
Are you a nonprofit looking for a way to raise funds towards a new outdoor message sign? Are you a sign company looking to help a nonprofit purchase a new message sign. SignVine could be your solution. They are ready to help.
SignVine is a nonprofit organization started by message sign industry professionals with the mission to empower nonprofits by helping them raise money towards an outdoor message sign for outreach in their community. For more information on SignVine, please visit their Website at http://www.signvine.org or call 850-677-1099 and ask for Mike.