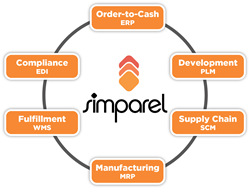 Companies now have the opportunity to trade the complexities of running multiple, customized systems for a simpler, single solution approach that gives them the visibility and efficiency they need to succeed in a rapidly changing industry.
New York, NY (PRWEB) April 16, 2014
Simparel, Inc. (http://www.simparel.com), a leading developer and marketer of Simparel® concept-to-consumer software solutions for apparel and softgoods retailers, top tier brands and manufacturers, announces its participation in the Technology Solutions Pavilion at the Texprocess Americas trade show on May 13-15 in Atlanta, Georgia. In Booth #3954 of the industry's largest North American tradeshow, the company will demonstrate the latest in Enterprise Resource Planning (ERP), Product Lifecycle (PLM), Supply Chain (SCM), Warehouse Management (WMS) and other fully integrated business solutions.
"We are pleased with the opportunity to participate in this important industry event," noted John Robinson, Senior Vice President of Sales and Marketing. "Today's apparel and sewn products companies are challenged to streamline and optimize operations to meet consumer and industry demands. We look forward to discussing the opportunity companies have to trade the complexity of running multiple, customized systems for a simpler, single solution approach that provides the visibility and efficiency they need to succeed in a rapidly changing industry."
Also at the event, Simparel Chief Operating Officer Roberto Mangual will discuss the challenges and industry best practices related to "Omnichannel Order Fulfillment" in a 30-minute presentation on Wednesday, May 14 at 11:15 AM (EDT) in the Technology Solutions Theater.
According to Mangual, a former apparel manufacturing executive, "The fast growth of ecommerce and other new sales channels is not just placing new demands on retailers. It is changing the way the entire supply chain must operate; from the way products are brought to market to the way inventories are managed and delivered across multiple channels. We look forward to sharing ways that brands and manufacturers can embrace this important trend to differentiate in a competitive marketplace."
In contrast to traditional and single-purpose software solutions that require complex customization and integration, Simparel is an industry-focused enterprise solution that manages the entire business and supply chain by incorporating key operational software capabilities into a single IT platform.
About Simparel
Designed specifically for the apparel, footwear, accessories, home furnishings and other softgoods industries, Simparel empowers retailers, brands and manufacturers to reach their full potential by accelerating and improving performance across the entire business and global supply chain. The Simparel Enterprise Solution provides global process visibility, control and collaboration by combining traditionally independent Product Lifecycle Management (PLM), Sourcing & Supply Chain Management (SCM), Manufacturing Resource Planning (MRP), Electronic Data Interchange (EDI), Warehouse Management (WMS) and other productivity tools into a single fashion-focused business system.
The fully integrated end-to-end functionality of Simparel keeps teams and vendors working on the same page and drives more-timely, better informed decision making across the business. The next-generation Simparel software architecture is simpler to deploy and offers a magnitude of scalability, performance and speed to benefit traditional enterprise solutions. At a lower total cost of ownership to competing solutions, clients routinely report increased agility, flexibility, responsiveness and faster, more efficient product development, sourcing, manufacturing, customer deliveries, inventory and cost controls all made possible by Simparel.
For more information, visit http://www.simparel.com.