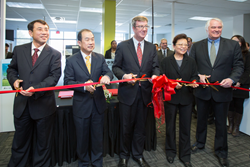 The fact that ZDG sees Ottawa on par with Silicon Valley speaks to the strength of our high tech companies and of their remarkable capacity for innovation. - Bruce Lazeby, CEO of Invest Ottawa
Ottawa, Canada (PRWEB) April 16, 2014
Today, China's Zhongguancun Development Group (ZDG) officially opened its International Incubation Centre in Ottawa, in association with Invest Ottawa. With this key partnership, four Ottawa-based companies, GREenergyTEC, iNano Medical Inc., Viscore and CanShielding will receive additional funding, training, and mentorship opportunities aimed at helping them succeed in doing business with the world's fastest growing economy. These businesses were among 40 Ottawa-based companies vying for a spot in the incubation centre.
"The ZDG Incubation Centre will help these four companies—and many others in the months and years to come—fast-track their technologies, and get a leg-up on their international competitors by having better access to the Chinese market," said Invest Ottawa CEO Bruce Lazenby. "The fact that ZDG sees Ottawa on par with Silicon Valley speaks to the strength of our high tech companies and of their remarkable capacity for innovation."
In announcing the four finalists, ZDG indicated it is negotiating an investment of $1 million USD with iNano Medical Inc. The company is developing technologies to help optometrists screen for and diagnose glaucoma—an eye condition that, if not treated, can lead to blindness.
In addition, talks are underway to provide GREenergyTEC with a demonstration project at Zhongguancun's Innovation Park (Zpark) in Beijing. The project will show how its technology can produce electricity from the simple act of cars driving along a road.
ZDG officials spoke Wednesday morning at a ribbon-cutting ceremony marking the official opening of the ZDG International Incubation Centre, located within the Invest Ottawa headquarters at 80 Aberdeen Street. The centre is the only one of its kind in Canada, and one of only two in North America. The other is in Silicon Valley.
"This year marks the 15th anniversary of the sister city agreement between Beijing and Ottawa, and this is another important milestone in our relationship together," said Ottawa Mayor Jim Watson. "This new incubation centre provides a bridge to the booming Chinese economy by directly linking local Ottawa businesses with a key international market."
Following ZDG's announcement in December 2012 that it had chosen Ottawa as the site for its second North American incubator, Mayor Watson led an Invest Ottawa mission to Beijing in October 2013, where an incubation services agreement was signed with the Chinese state-owned enterprise.
ZDG—created by Beijing's municipal government in 2010—has a registered capital base of $1.9 billion, with total assets of $11 billion. Its 15 subsidiary companies cover three main areas of business:

equity investments in high-tech companies;
infrastructure investments including high-tech industrial and science parks in Beijing, and incubation centres like the one in Ottawa; and
financing for high-tech companies.
ZDG has made equity investments in more than 80 companies and projects, and has plans to invest up to $1.5 billion in the next four years.
About Invest Ottawa
Invest Ottawa delivers export-oriented economic development programs and initiatives that increase entrepreneurial momentum, wealth and jobs in the City of Ottawa and its surrounding region. Its goal is to make Ottawa the best place in Canada to start and grow a knowledge-based business. Invest Ottawa services include startup incubation and mentorship, acceleration for existing companies, global business attraction and local business retention, targeted sector development, commercialization, and marketing Ottawa's diversified economy and high quality of life. http://www.investottawa.ca