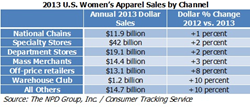 Port Washington, NY (PRWEB) April 16, 2014
The NPD Group Reports U.S. Women's Apparel Market Grew 4 percent in 2013
Double-Digit Surge in Smaller Categories Helps Drive the Growth
According to The NPD Group, a global information company, total U.S. women's apparel retail sales reached $116.4 billion in 2013, a 4 percent increase over the $112.3 billion generated in 2012. Double-digit increases in some of the smaller apparel segments - those producing less than $10 billion in annual sales - drove the gains. Among them was outerwear, which increased 12 percent to $6.3 billion.
"Winter 2013-2014 was one of the longest and coldest winters in recent history, so the spike in sales of cold weather clothing comes as no surprise," said Marshal Cohen, chief industry analyst, The NPD Group. "If this winter is any indication of what we can expect in the future, retailers will need to make sure they're prepared to handle consumer demand."
Not only were women dressing for warmth in 2013, they were also dressing for success. Thanks in large part to double-digit dollar gains of jackets/blazers and suit separates, annual dollar sales for tailored clothing reached $4 billion, an 11 percent increase over 2012. Complementing the 'dress up' trend, dollar sales for tights grew 33 percent in 2013.
Even though the stores benefitting the most in 2013 from total women's apparel sales were off-price retailers and warehouse clubs, there were some bright spots within some other channels. Strong sales of outerwear and tailored clothing influenced the increased sales in department stores and mass merchants.
Website purchases, which represented 15 percent of women's apparel sales, saw some of the highest growth for the year, increasing 17 percent over 2012. Also noteworthy is the fact that the average price of an online purchase of women's apparel is higher than an in-store purchase.
"With the continued increase of online sales threatening the traditional brick-and-mortar retail model, retailers and brands must be quick to adapt to the changing needs of the online shopper," stated Cohen. "Seamless integration across all channels will help retailers maintain a better connection with their shoppers."
About The NPD Group, Inc.
The NPD Group provides global information and advisory services to drive better business decisions. By combining unique data assets with unmatched industry expertise, we help our clients track their markets, understand consumers, and drive profitable growth. Sectors covered include automotive, beauty, consumer electronics, entertainment, fashion, food / foodservice, home, luxury, mobile, office supplies, sports, technology, toys, and video games. For more information, visit http://www.npd.com and npdgroupblog.com. Follow us on Twitter: @npdgroup.
Contact:
Erin Cohen
The NPD Group, Inc.
516-625-2203
erin.cohen(at)npd(dot)com