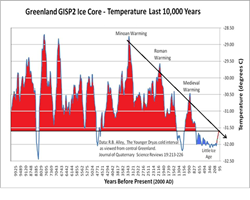 All three warm periods occurred before industrialization; these facts effectively put Lovejoy's argument of 'unprecedented global warming' to rest from the get-go
Calgary, Alberta, Canada (PRWEB) April 17, 2014
Friends of Science are rejecting the recent paper by Shaun Lovejoy of McGill University of Montreal reported on April 11, 2014 in the online science news Phys.org and published April 6, 2014 online in the journal Climate Dynamics. The Lovejoy paper claims to prove with 99.9% certainty that human industrial activity is the cause of recent warming (which stopped naturally 15+ years ago as reported May 26, 2013 in Forbes). However, assessment by Friends of Science member and geophysicist Norm Kalmanovitch, reveals the paper lacks reference to known past historical warm periods. This means Lovejoy's conclusions are 100% wrong, say Friends of Science.
"The Lovejoy paper is fundamentally flawed in that it fails to take account of three known prior naturally warm periods and it relies on the widely discredited "Hockey Stick" graph and replications that were dismantled by McKitrick and McIntyre years ago," says Kalmanovitch.
Friends of Science dispute Lovejoy's methodology saying his simplistic correlation between CO2 and proxy temperatures as causing warming, fails to address the increase of solar activity - the source of all energy on earth - in the time period. Tree-ring data used in Lovejoy's study diverges greatly from thermometer measurements, indicating that the proxies are not reliable for estimating past temperatures.
Kalmanovitch points to the earlier warming periods - Minoan Warm of 3,000 years ago, Roman Optimum of 2,000 years ago, and Medieval Warm of 1,000 years ago.
A graph published in the Journal of Quaternary Science Reviews of January 2000: pp 213-226 shows that all three periods were all warmer than the current warm period.
"All three warm periods occurred before industrialization; these facts effectively put Lovejoy's argument of 'unprecedented global warming' to rest from the get-go," says Kalmanovitch.
Evidence from satellites and radiosondes show that climate is not very sensitive to changes in CO2 due to net negative feedbacks operating in the climate system, which counteract the direct CO2 effect. The lack of warming over the past 15+ years proves that natural factors can easily negate the small CO2 effect.
Lovejoy's paper begins the study period in the 1500's but he does not reference known temperature records within that time. The Central England Temperature Record from January 1663-December 1762, before the Industrial Revolution shows a warming of 0.90 °C during this 100 year period. Humans were not responsible for this temperature change.
As reported in the Wall Street Journal of Feb. 19, 2014, the global temperature rise over the last 100 years was only about 0.7 °C [1.3°F], which was mostly due to natural causes, with humans having a small effect.
Other concerns are evidenced in the original press release issued by McGill University wherein Shaun Lovejoy is quoted as saying: "This study will be a blow to any remaining climate-change deniers..."
"This is appalling language, sanctioned by a Nobel Laureate University like McGill, unscientific and in very poor taste," says Kalmanovitch.
Friends of Science are asking McGill University's Chancellor for a retraction and apology for the language used in the press release.
About
Friends of Science have spent a decade reviewing a broad spectrum of literature on climate change and have concluded the sun is the main driver of climate change, not carbon dioxide (CO2). The core group of the Friends of Science is made up of retired earth and atmospheric scientists.
Contact:
Friends of Science Society
P.O. Box 23167, Connaught P.O.
Calgary, Alberta
Canada T2S 3B1
Toll-free Telephone: 1-888-789-9597
Web: friendsofscience.org
E-mail: contact(at)friendsofscience(dot)org