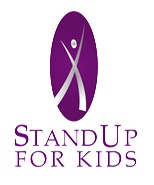 "We are honored to be hosting this fashion fundraiser for Stand Up for Kids- Chicago. Youth homelessness is all around us, affecting all races and socio-economic groups" says Joey Morelli, co-owner of Max's Deli & board member of Stand Up for Kids-Chicago
Highland Park, IL (PRWEB) April 22, 2014
Highland Park businesses are coming together to stand up for Chicago's homeless kids at a Spring Fling Fashion Show Fundraiser on Thursday April 24th from 7-9 p.m. at Max's Delicatessen and Restaurant, 191 Skokie Blvd., in Highland Park. The public is invited to support this fashionable philanthropic event where they will enjoy an energetic evening of fashion and fun, gourmet appetizers, drinks, raffle prizes and music by the Highland Park High School DJ Club. Tickets are $25 and all proceeds will benefit Stand Up for Kids-Chicago, a non-for-profit organization facilitating opportunities and providing a nurturing environment to encourage homeless youth to become empowered adults.
"Last year's fashion show had over 300 attendees who enjoyed the opportunity to socialize, view the latest fashions, and be a part of an event for a great cause," says Gilat Zamost, event organizer and owner of My Best Friend's Closet. "We're excited to feature the second fashion show and partner with Stand Up For Kids- Chicago."
Highland Park's My Best Friend's Closet, Posh Essentials, Razny Jewelers, Cos Bar and Salon Vole will rock the runway with the hottest looks for spring from clothing and jewelry to makeup and hair. The season's latest fashion trends will come to life as the models capture the audience's attention as they parade through the crowd.
"We are honored to be hosting this fashion fundraiser for Stand Up for Kids- Chicago," says Joey Morelli, co-owner of Max's Deli and board member of Stand Up for Kids-Chicago. "Youth homelessness is all around us, affecting all races and socio-economic groups. We are proud to raise awareness for such a great cause."
There will be fabulous raffle prizes including four field box Cubs seats, a Nanis Italian Jewels Necklace & Earrings Set from Razny Jewelers, and gift certificates galore from Highland Park businesses such as, Posh Essentials, Sprout Kids and Beanstalk Toyland & Bookstore to name a few.
Tickets can be purchased in advance online or by mailing a $25 check to Stand up for Kids at 1000 Skokie Boulevard, Suite 155, Wilmette, IL 60091. You can also reserve tickets by calling My Best Friend's Closet at (847) 681-0002. For more information, email info@ripplepublicrelations.com.
About Stand Up for Kids
Stand Up For Kids is a non-profit volunteer organization whose mission is to provide crisis intervention and basic survival necessities for at-risk and homeless youth through national and local outreach. Violence and abuse are unfortunately increasingly common within families and communities, and there are now 1.3 million homeless and street kids. Stand Up For Kids offers an abundance of services, complete anonymity, and ensures that youth do not have to feel alone in dealing with their problems. The mission is to end the cycle of youth homelessness throughout the United States. For more information, visit StandUpForKidsChicago, email brian(at)standupforkids(dot)org or call 847-251-1622.
About Razny Jewelers
Razny Jewelers is family owned & operated. The Razny family represents the world's top brands and offers custom creations. Razny Jewelers is always on the cutting edge showcasing the brightest stars in the jewelry and Fine Swiss Timepieces' world. For over 60 years, Razny Jewelers has defined the essence of what a fine jewelry store should be to their clientele. Razny Jewelers is dedicated to the best combination of old-world and modern values. They are one of the only jewelers in the Chicago area that fabricates custom creations truly by hand. With several bench jewelers on staff, custom jewelry remains their specialty. Their careful attention to perfection and unrivaled craftsmanship turns dreams into reality. In addition, Razny Jewelers has Certified WOSTEP Watchmakers on premises to service your timepiece requirements. Razny Jewelers' integrity, honesty and commitment to unparalleled personal service bring their customers back time after time. Razny Jewelers' stores are located in Addison, Highland Park and Hinsdale.