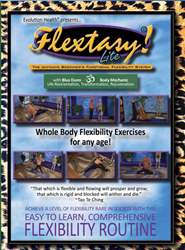 'I like to think of the Flextasy Moves as the Alphabet of Movement.' - Blue Dunn
Las Vegas, NV (PRWEB) May 06, 2014
Flextasy Lite Functional Flexibility exercises, Blue Dunn's follow up to his popular Flextasy Flexibility system, is now available. Flextasy Lite flexibility and stretching exercises will help one regain flexibility and reclaim a pain-free body with simple and easy to learn movements that almost anyone can do. The Flextasy Lite stretching System is a three DVD, step-by-step flexibility program, that is guaranteed to get one back on the path to flexibility. Flextasy Lite flexibility exercises will help one more flexible and well on the way to achieving a body that is pain free and back to living a more active life.
Blue Dunn taught the original Flextasy Flexibility System for 6 years at Sharp Hospital Center for Sports Medicine, at numerous Massage Schools in California, and various other groups in the states and abroad, Blue was asked if he would be interested in teaching a seniors flexibility class at the Motion Center facility of Sharp Hospital in Coronado, California. He began, on a weekly basis, modifying and inventing new moves, based on the exact same principles and concepts of his original Flextasy flexibility class, which could easily be done by those over 60 and individuals who were fairly to extremely, compromised. Over time, he categorized a systematic flexibility exercise routine for the "flexibly challenged", and Flextasy Lite was born.
Both the Flextasy and the Flextasy Lite Routines are similar in that there is no need to be intimidated by any of the movements presented. The goal with both routines is to simply become familiar with the movements, slowly and with awareness, individuals can practice the flexibility exercises to the best of their ability.
Blue likes to think of the Flextasy exercise movements as the "Alphabet of Movement". They are not like the traditional Yoga postures that can be intimidating to most. The Flextasy flexibility exercise movements, especially the Flextasy Lite, are instead functional, gentle explorations through one's structure, loosening, lengthening, and massaging one's muscles, flushing out and fluffing up the cartilage in and around the joints, decompressing and allowing those joints to realign themselves as the tension throughout the whole musculature is lessened.
Blue says he's aware that there are people who have benefited from learning Yoga asanas (postures), and says he's also aware that all forms of Hatha Yoga are not the same. Blue feels that based on observations and experience, most forms of Yoga simply put more tension into the myo-fascial web and the skeletal structure, adding insult to injury. For this reason, he calls the Flextasy System a "Yoga for the New Millennium"; because it is essentially user-friendly to all, extremely effective, and basically impossible to hurt oneself with.
Flextasy Lite functional flexibility systems consists of three DVDs:
Disk 1 contains all the movements presented one at a time: "the Alphabet of Movement". In this disk one learns the skeletal range of motion flexibility movements just like learning the alphabet, one letter at a time. The movements are practiced in this manner until all, or at least most of them can be done smoothly and easily.
Disk 2 contains all the Flextasy Lite movements presented in a one hour class format.
Disk 3 contains Blue's choice of standing, seated, and standing movements that can be done in a half hour.
Flextasy Lite Functional flexibility exercises is the simplest, most effective comprehensive flexibility system ever developed. Flextasy Lite can be a stand alone exercise routine, but it's at the very least an indispensable prerequisite to any and all forms of exercise. From cycling and running, to yoga or sports, most people will benefit from the increased flexibility. Through Flextasy Lite one will learn how to move correctly and efficiently and reach a higher level of performance.