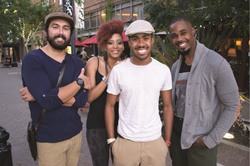 I do what I do so that perhaps, at the very least, one person can get a clear glimpse of who God really is through my life and through my poetry.
Irvine, California (PRWEB) April 16, 2014
"Blood, Sweat and Ink," a 33 Three Records spoken word project that features world-renowned performing artist, poet and musician Janette McGhee alongside acclaimed poets Ezekiel Azonwu, Jose Palos, and Chris Webb, is releasing a video series poised to revolutionize spoken word. Together, the group's reach is astounding – upwards of 18 million people have viewed their various solo projects on YouTube. Their collaborative venture promises to be even more impactful. By taking the emphatic poetry and performance of the spoken word genre and combining it with unmatched musical composition they invite audiences to deeply engage with material in a series of raw, unparalleled presentations.
The group hopes that the yet undefined genre will amplify their reach and increase their positive impact, especially among younger generations.
"It's always been my goal to provide art that not only has a reputation for excellence, but that also serves as a platform for me to express my journey through faith and life," says Chris Webb, "I take the responsibility very seriously, and it's an honor to use poems, videos, and other forms of media to express the truths that provide answers to the searching and the broken."
Jose Palos, known to audiences as "Palos" added, "I do what I do so that perhaps, at the very least, one person can get a clear glimpse of who God really is through my life and through my poetry."
No stranger to headlines, group front-woman Janette McGhee – known to fans as "Miss Terious Janette…ikz" (pronounced mysterious genetics) – is world renowned for her pure, unbridled message and exceptional talent as a poet and performer. Her YouTube video, "I Will Wait for You," encouraging young men and women to abstain from sex until marriage, has received more than 2.4 million views and a phenomenal amount of acclaim. McGhee brings the same energy and endowment to this new set of videos, drawing from her own uncensored experiences to deliver powerful messages.
One such video reinvents McGhee's much-admired performance "The Truth Without Photoshop," wherein she confronts trials of her past with empowering forgiveness and strength, with an original enactment alongside musical scoring for unequaled impact. Other topics explored in the collection of eight one-act plays include overcoming addiction, homelessness, physical injury and everyday life trials.
The videos will be available to the public on April 28th, and may be purchased at 33threerecords.com. A soundtrack of the material will be available on iTunes.
Artists are available for media interview. Please e-mail Tina Davis at tina(at)kindreddeal(dot)com for booking.