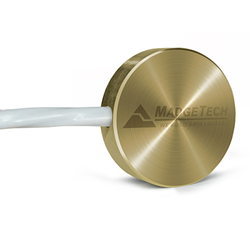 Warner, NH (PRWEB) April 16, 2014
The MicroDisc probe attachment extends the user's data logging capability by enabling monitoring of the surface temperature of shelving and flat surfaces throughout the Lyophilization process.
The MicroDisc is the latest product from MadgeTech's line of data loggers, systems and accessories. MadgeTech continues to design and develop solutions to meet the challenges that customers face on a daily basis. MadgeTech takes pride in providing affordable, user-friendly data logging solutions for virtually every need.
The LyoTemp Data Logger is compatible with the latest MadgeTech 4 software, available to download free from the MadgeTech website. For users that require 21 CFR Part11 compliance, MadgeTech offers MadgeTech 4 Secure Validation Software and IQ/OQ/PQ validation workbook.
MadgeTech Data Logger Software is an all-in-one package for storing files, creating formal reports, and performing in-depth analysis. Data downloading from data loggers is automatically saved to the internal file data base, ensuring original records are always maintained. Customizable graphical, tabular and statistic reports can be created to present to clients, auditors, or kept for a physical archive. The software features the ability to export to Excel®, data annotation, digital calibration and more.
The MicroDisc surface temperature probe attachment is priced at $25.00 USD. For more information please visit http://www.madgetech.com or call (603) 456-2011.