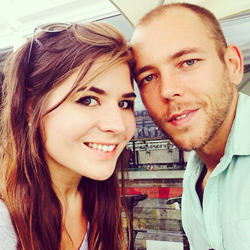 De Jongh is a young and vibrant youth worker at a Church in South Africa.
Western Cape, South Africa (PRWEB) April 19, 2014
JC De Jongh, a young passionate entrepreneur along with his wife aim to launch an innovative global personal development platform called Burgeon. The start-up business will provide a wealth of information to get youth started on the right foot when it comes to business training, personal health, and spiritual growth.
After realizing that most of their friends and family had given up their life long dreams and passions for an average 9 to 5 job, JC and his wife decided to create the concept of Burgeon in order to save the up-coming youth from a similar fate. Burgeon will provide users with valuable resources such as books, seminars, webinars, as well as one on one training in order to provide efficient training for the next generation of up and coming youth.
"We have decided not to settle for an average life. We want to make a difference, we want to leave a legacy for others," states de Jongh.
"We are taking steps to insure that our legacy lives long after we have departed this life. We have seen how we changed, challenged our past perceptions, and created a new future."
As de Jongh states, their primary goal is to fuel next generation youth with information that will ensure them success in the future. Most traditional school curricula do not provide the platform nor the environment that will assist youth in achieving optimal personal growth.
Once launched, the business Burgeon, which ironically means to grow quickly will give back to the South African community by aiding in re-building townships. Burgeon goes a step further and will actually provide the house owners of these townships with a-la-carte personal development courses.
Currently the duo is seeking fundraising on Indiegogo in order to attend the up and coming QuantumLeap program headed by T. Harv Eker, serial entrepreneur and millionaire. De Jongh states that the skills he and is wife will obtain from the conference will drastically aid in the launch of Burgeon and therefore is a crucial step in the start-up's timeline.
About JC De Jongh:
De Jongh is a young and vibrant youth worker at a Church in South Africa. Along with his wife a graphic designer the pair aims to launch the first online personal development platform which targets the next generation of youth. The duo is actively seeking funding in order to attend the up and coming Quantum Leap program which will aid in making this vision a reality.
For more information, please visit: https://www.indiegogo.com/projects/quantum-leap-training-to-start-a-company-that-will-impact-millions#home
Contact Information
JC De Jongh
2027 Somerset Links
Somerset WEst, Western Cape 7130
South Africa
Phone No: 1.888.345.2039