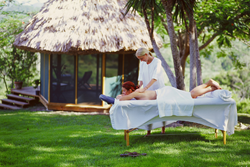 "We want our guests to leave here not only happier, more relaxed and healthier, but better equipped to deal with the pressures of daily life and concentrating on their own life journeys."
San Ignacio, Belize (PRWEB) April 18, 2014
Bookings for the upcoming Maya Summer Solstice Wellness Retreat in Belize have opened, and The Lodge at Chaa Creek is suggesting that people interested in natural health, Maya healing and fostering wellness in a tranquil setting book early to be assured a place.
Chaa Creek Hilltop Spa manager Bryony Fleming Bradley said that since the Maya Solstice celebrations of 2012, which were held throughout the Mundo Maya, or Maya world, interest has been building about the Maya approach to integrated health and wellbeing.
"The Chaa Creek Maya Rainforest Wellness retreats were an outgrowth of the 2012 'Year of the Maya' celebrations when we realised how many people from around the world were interested in the Maya approach to health, which is holistic and emphasises a balance between the body and mind as well as healthy, organic food.
"At the same time, many travellers discovered this millennia-old system of maintaining good health, and word of mouth spread quickly. The Maya developed their approach to health over thousands of years, and people were surprised that the ancient Maya were some of the first people to conduct heart and brain surgery, not to mention using sutures, casts and other things we take for granted today.
"In fact, the obsidian scalpels they developed are still used today and recognised by modern surgeons for being keener, holding a sharper edge and neatly slicing, rather than tearing through delicate tissue. They are far superior to surgical grade stainless steel, and these are implements the Maya developed and were using before the time of Christ," she said.
"But for the most part, the Maya emphasised staying healthy," she added.
Ms Fleming Bradley said the Maya also encouraged a healthy diet, and that Chaa Creek's Maya Organic Farm, which supplies the eco-resort with fresh food, uses techniques unchanged over the centuries. These and other aspects of Maya health, such as the Maya Rainforest Medicinal Plant Trail and spa treatments are all part of the Wellness package.
"We offer the Belize Wellness and Spa vacation packages all year round, but the Summer Solstice will have some very special components," she said.
The Chaa Creek Rainforest Spa Wellness Retreat is an all-inclusive Belize vacation package that incorporates luxurious accommodations, fine dining, visits to Maya temple sites, jungle spa treatments, guided-naturalist excursions, organic food agriculture, medicinal plant trail tours and more, all in a relaxed rainforest atmosphere that fosters healing and becoming attuned to one's body while living within the tranquility of this pristine eco-system. The minimum four night package can be expanded to seven nights.
Ms Fleming Bradley added that the 365 acre secure, private rainforest reserve surrounding Chaa Creek has miles of trails for guests to renew their connection with nature, with or without professional guides, as well as canoeing and other healthy eco-adventures. The reserve has over 70 ancient Maya archaeological sites recorded on it and is home to an abundance of tropical wildlife such as howler monkeys, keel-billed toucans, parrots and a range of exotic flora and fauna in a pristine setting that has changed very little since the days of the ancient Maya civilisation.
Chaa Creek's atmosphere of tranquility and the casual luxury of the accommodation and amenities are perfect for achieving the mind/body/spiritual harmony so necessary for a healthier life, Ms Fleming Bradley said.
"We want our guests to leave here not only happier, more relaxed and healthier, but better equipped to deal with the pressures of daily life and concentrating on their own life journeys. It's a relaxed, but intensive retreat, and we feel that guests will take away some important tools, strategies and a new outlook on life; one that taps into thousands of years of ancient wisdom," she said.
Ms Fleming Bradley said people are invited to visit the Chaa Creek Website to search for the Wellness and Spa vacation to learn more, or they can email Chaa Creek directly at reservations(at)chaacreek(com), ringing 1-866-640-6397 or contacting their travel agents.
"The Chaa Creek Wellness package, or even just a stay here is beneficial any time of the year, but I think there will be a lot of positive energy and an interesting group during this year's Summer Solstice, and we're really looking forward to it ourselves once again, she said.
ENDS