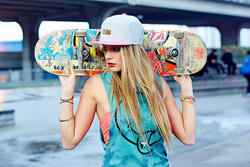 You never go wrong with our fresh patterned 5 Panel Biker Hats!
Carlstadt, NJ (PRWEB) April 17, 2014
Quickly growing as the one of the top fashion trends of the year, patterned 5 Panel Biker Hats are beginning to be spotted on many celebrities and socialites across the world, including Chris Brown and Kristen Stewart. Also known as camp caps or volley hats, these stylist essentials are a must have for the Spring season. Keeping up with the latest trends, City Hunter Cap USA, qualified headwear brand for all ages and occasions, has recently added a variety of all new and originally designed 5 Panel hats to their headwear collection online. Available on their website, with the new line, over 50 high-quality and uniquely designed 5 Panel selections will be released, each print in 4 or more color variations. Prices range from $12.99 – 24.99 and low cost standard or expedited shipping make these deals one not to miss as many of the items are limited edition.
The hats are being offered in a variety of styles and fabrics including, all leather, leather brimmed, 100% cotton, snake skin and wool. Patterns range from, Fresh Prince to the American Flag in celebration of the upcoming Fourth of July holiday.
City Hunter Cap USA's Spring line of patterned, 5 Panel Hats will be available only for a short period of time as most of the selections are limited edition. Although the exact origins of the 5 Panel Hats are unknown, over the past four years these hats have gone from a niche to an everyday worn item. These and City Hunter Cap USA's other product selections are widely popular among the skateboard community, musicians, artists, bikers and fashionistas across the world. The company prides themselves in being involved in the community and offering selections that all age groups and demographics can identify with. They are pleased to begin to offer this new collection of hats to their vast product selection of headwear online. For more information please visit their website at http://www.cityhuntercapusa.com.
About City Hunter Cap USA
Since 1991, City Hunter Cap has offered unique headwear for all ages, nationalities and genders across the globe. Headquartered in New Jersey, the company has grown immensely since its beginnings and prides itself on the mission to "Be REACH-able", epitomizing their main goal to reach out to anyone, anywhere. Today they are one of the top headwear companies worldwide, providing unique and custom designed hats such as, Fedoras, Cadet Hats, Snapbacks, Bucket Hats, 5 Panel and Floppy Hats. Their unique positioning of offering quality designed hats at wholesale costs and exceptional customer service, enables them to stand out from their competitors. Currently, they are helping grow the popularity of headwear nationally by offering diverse selections for any person or occasion. To find out more about City Hunter Cap USA or shop their products online, please visit their website at http://www.cityhuntercapusa.com, Facebook or Twitter.