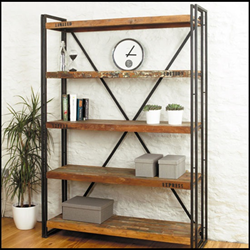 (PRWEB UK) 17 April 2014
Furniture in fashion launches its new range of smart furniture for smart home makers with lots of varieties in terms of sizes and utility. This range is designed to suit today's urbane lifestyle. Cupboards, shelf, chest, book case, and storage cabinets can never get stylish and usable than these products.
Today, the buyers are keen to pick up furniture that is chic in looks and compact to store. Contracting spaces within apartments don't actually leave them with more choice. But there are certain products aimed at fulfilling these requirements. It's a whole new urban range of smart and sleek furniture from furniture in fashion. They have launched a wide collection of side cupboards, console tables, book cases, coffee tables, lamp tables, large cupboards, and TV stand.
These products are designed with an inherent element of modish styles in them. In fact, this entire range comprising of some 28 items is specifically designed for the urban dwellers who seek style with comfort and affordability in the home and office furniture. This entire range has eco friendly products manufactured from reclaimed wood. The skill of company's artisans enhances their finesse and durability. These furniture items are finished with satin lacquer and have appropriate use of iron and steel to increase their life.
Furniture in fashion offer competitive prices in these products from their Urban Chic range. They cater their products to the buyers having less storage space and high penchant for stylish looking furniture. The company has huge ware house where items are shipped from Germany. Hence the styling is very slender and beautiful. In the ever changing trends of furniture, these items are a fresh breeze with suitability to modern homes. In terms of design and durability, there is no denying the fact that company has a strong reputation since its inception.
In this range of high style urban smart furniture, spacing has been design intelligently to give you maximum storage capacity in them. They are supported by tough metals like iron and steel to give them strength and durability. If you are looking for such furniture with maximum storage and competitive prices, then you can also certainly go for this line of urban furniture from this brand. The online presence of company has largely facilitated buying through its website.
As per the Managing Director of Furniture in fashion, the company adheres with its promise to provide befitting furniture for all home sizes. This range of smart urban furniture fits into a small floor size and offers you large spaces to store your essential goods into them. Italian designs are merged with German manufacturing techniques in these products to bring an extra dash of style to your room. All these items are included in the latest catalogue of company and on their website as well. They offer complete variety in storage cupboards, chest, drawers, cabinets, and TV stands along with some interesting designs in dining table and console tables.
You can have a look at this complete range at their online store http://www.furnitureinfashion.net/ and also place your orders there itself. With fast and on time delivery, they also offer you huge savings on your buying with a quality assurance.