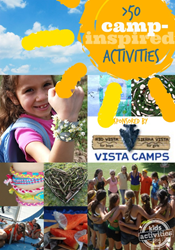 Go on a nature hunt or play fun archery games today.
Dallas, Texas (PRWEB) April 23, 2014
Ready for summer break? The best summer camp activities and yummy breakfast on a stick recipes have been released on Kids Activities Blog. Have a blast together with the kids before summer break begins.
Let the kids do a little day dreaming with the fun summer camp inspired activities, arts, projects, and food ideas on Kids Activities Blog. The over 50 ideas include camp games such as pool noodle javelin and tug-o-war games.
Camp inspired crafts include making a compass, building firefly jars, making leaf crowns, and making awesome friendship bracelets. Camp art projects include a wide varieties of crayon rubbing ideas, sun prints, stick art, mandala art, and a fantastic giant fence art project.
A laundry list of team building games and nature hunt ideas tops the list. Making a bird watching book and archery games are among the kids favorite outdoor projects. Camouflage science projects are perfect for younger as well as older camp enthusiasts.
The kids will have a blast to stab the food to make breakfast and then eat it. Ingredients needed to make fun breakfast skewers are waffles cut into squares and a variety of fruits cut into bite size pieces.
Yummy additions to the breakfast waffles are cut up breakfast sausage pieces and bacon ribbons in between the layers of waffles and fruit. Let the kids create their favorite skewers.
After the skewers are finished, provide a variety of dipping sauces such as yoghurt or syrup. Enjoy watching the kids finish their breakfast and even asking for seconds.
For detailed instructions and to get additional fun ideas, check out Kids Activities Blog this week. Come get inspired to have a blast together with the kids.
About Kids Activities Blog
Kids Activities Blog is a website created by two moms (who collectively have 9 children), Rachel Miller and Holly Homer from June Cleaver Nirvana. It is their daily goal to inspire parents and teachers to play with kids. This interactive website publishes simple things to do with kids twice a day. Kids Activities Blog is a great tool for moms and teachers to find kid-friendly activities that create memories and sneak learning into the fun.