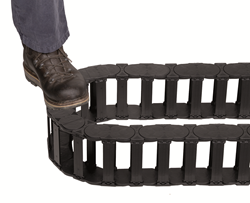 (PRWEB) April 16, 2014
igus will be exhibiting at the forthcoming Offshore Technology Conference (OTC), to be held in Houston, Texas and the Reliant Arena, May 5th – 8th. At the show, plastic engineering expert, igus, will have on display many of its products for heavy-duty applications in offshore industries, including the E4.350 and E4-1 Energy Chain systems, Push Pull Detection System for Energy Chains, pre-harnessed cable carrier solutions, and more.
On Display
The massive E4.350 (350mm interior link height) was specifically developed for the most demanding applications where electrical cables and large hydraulic hoses must be guided and protected on mission critical equipment. With attributes such as its incredible strength to weight ratio, resistance to grease, oil, seawater, dirt, other debris, sun and temperature, it is an excellent alternative to traditional heavy-duty steel carriers.
The new and improved E4.1 line of cable carriers will be on display as another addition to the igus heavy-duty plastics family. The latest generation of igus' proven E4 heavy duty cable management systems is an all-star line-up of all of the previous generations best features combined into the "One Energy Chain for all applications" which makes selection very simple for the end user.
This latest addition to the proven E4 lines of heavy-duty plastic cable carriers combines the features and benefits of its predecessors in the E4 range of cable carriers, such as low noise, modularity, and ruggedness into the "All for One" Energy Chain.
The new generation boasts design improvements such as a 33% increase in the unsupported span capabilities of the Energy Chain and a 133% increase in tensile strength over the last generation (which set the industry standard). Other performance enhancements such as enlarged wear surfaces for extending life, noise dampening features and new accessories including the Push Pull Detection System (P.P.D.S.), which monitors forces on the chain during operation, offer a complete solution for machine builders.
Until now, designers were forced to choose between non offshore certified continuous flex cables or certified cables that were not designed for continuous flex operation in cable carrier systems. Now they have the best of both worlds – 348 igus Chainflex cables have earned GL certification, and are approved for use in offshore applications. igus® can now provide turn-key ReadyChain solutions, fully harnessed with include Energy Chain cable carriers, Chainflex GL certified continuous flex cables, hoses, connectors and accessories, ready to plug in right out of the box.
To compliment ReadyChain Systems, igus can also provide full engineering and design services, installation supervision, commissioning and maintenance inspections as well as installation services.
About igus®
igus® develops industry-leading Energy Chain® cable carriers, Chainflex® continuous-flex cables, DryLin® linear bearings and linear guides, iglide® plastic bushings, and igubal® spherical bearings. These seemingly unrelated products are linked together through a belief in making functionally advanced, yet affordable plastic components and assemblies. With plastic bearing experience since 1964, cable carrier experience since 1971 and continuous-flex cable since 1989, igus provides the right solution from over 80,000 products available from stock. No minimum order required. For more information, contact igus at 1-800-521-2747 or visit http://www.igus.com.