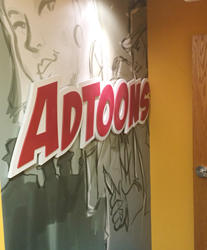 Whiteboard animation has had a huge impact on the amount of leads and sales our clients generate.
Toledo, OH (PRWEB) April 22, 2014
AdToons, an industry leader in whiteboard animation, announced today the opening of their new headquarters in Toledo, Ohio. It has administrative offices, as well as a studio full of cutting-edge equipment for their whiteboard videos, which attract more leads and convert more sales..
Founded in 2005, AdToons is the brainchild of Vince Palko, an originator of the whiteboard videos that have become the darling of the online marketing world in recent years. They feature hand-drawn cartoons and voice-over narration that tell the story the client wants to present about their product or service.
"Whiteboard animation videos cut through the clutter consumers are bombarded with on a daily basis and deliver a clear, consistent and engaging message," says Palko. "And that means we grab website viewers' attention and hold it. The average marketing message will hold attention for just 30 seconds, compared to 3-4 minutes with AdToons. That's a huge difference. And it's had a huge impact on the amount of leads and sales our clients generate."
AdToons has worked with orthodontists, martial arts schools, Internet marketing gurus, diet and exercise gurus, lawyers, real estate companies, investment advisors... any type of business could benefit.
One client, Chris Thompson of Talking To Toddlers, experienced a 245% increase in conversions from using an AdToons explainer video on his website. And another, Preston Ely, used an AdToons whiteboard video during a marketing campaign and credits the animation with a 25% increase in sales. "In our new space, the AdToons team and I will be more efficient and productive," says Palko. "And that means even better whiteboard animation for our clients."
To find out more about AdToons, please visit http://www.AdToons.com and sign up for a free consultation.
https://www.youtube.com/watch?v=m5HTJ1tLnsA
About AdToons
Founded by former pro football player and cartoonist/graphic artist Vince Palko in 2005, AdToons is the world's premier whiteboard animation, explainer video, and cartoon marketing provider. This next-level medium allows companies to market their products and services in an attention-grabbing way that generates leads and sales.For a more information about AdToons and how it can help your business... or to schedule a free consultation, please visit the website (http://www.AdToons.com), email marketing(at)adtoons(dot)com, or call 1-419-841-3030.