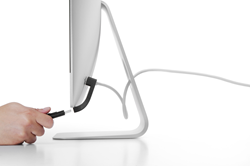 Jimi brings the USB at the back of the new iMac forward, to enhance the user experience.
Pasadena, Calif. (PRWEB) April 22, 2014
Making life simpler for next generation iMac users, Bluelounge today launches Jimi – a USB port extension that helps users access the back USB port of their iMac from the front of their monitor. Jimi is a J-shaped extension that eliminates the need to strain to reach the USB port at the back of the iMac, but rather, brings it forward so that it's within reach and easy to access.
"Jimi was designed to enhance the user experience with the new iMac," said Dominic Symons, Creative Director and Founder of Bluelounge. "We work on iMacs in the studio and kept finding that we'd have to stand or turn the monitor to access the back USB – then we thought – ah ha! And Jimi was born."
Simply plug Jimi into the USB port at the back of the iMac and extend the bottom of the "J" to snap into place along the bottom vent of the computer. Plug and unplug your USB connectors with ease, and transfer data with zero-drag.
Jimi is exclusively designed for the iMac Slim Aluminium Unibody model (released November 2012) or later.
Jimi is available at a suggested retail price of $14.95. Bluelounge products are currently available online and at select retailers worldwide. To find a retailer nearby, please visit our store locator.
For more information on Jimi, visit http://www.bluelounge.com/products/jimi/.
Follow Bluelounge on Twitter at twitter.com/bluelounge and on Facebook at facebook.com/bluelounge for the latest news on all Bluelounge products.
About Bluelounge
Bluelounge is an award-winning, international design studio known for its clever products that solve everyday problems through design.
Each product is designed to provide an effortless solution that stands the test of time and integrates into your life so seamlessly, you can't remember living without it.
Under the creative direction of Dominic Symons, the Bluelounge team is a vibrant collective that champions ingenuity and embraces creativity to fuel innovation.
Bluelounge is headquartered in Singapore, with studios in Jakarta, Indonesia and Pasadena, California.
Note to reporters: High-res images are available here: http://www.bluelounge.com/media.
Media Contact:
Kaitlin Hawk
Bluelounge
P | 626.564.2802 ext. 706
kaitlin(at)bluelounge(dot)com