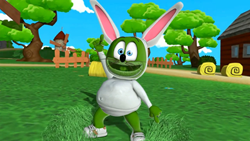 New York, NY (PRWEB) April 17, 2014
With more than 3 million video views each day, Gummibär is the most popular animated character on YouTube. Children, teens, and adults alike are all entertained by his upbeat music and humorous videos. His new video, KikiRiki, made its worldwide debut on YouTube earlier today. It features Gummibär singing a catchy new song, dancing in a barnyard with a group of chickens, and having an Easter egg fight with a nasty rooster.
The video can be viewed on Gummibär's YouTube channel at http://www.youtube.com/gummybearintl.
Gummybear International is the company behind the Gummibär character and brand. Jurgen Korduletsch, the President of Gummybear International, states, "We're always happy to have a new Gummibär video for his fans. We hope they enjoy this current offering that has a bit of a zany Easter theme to it."