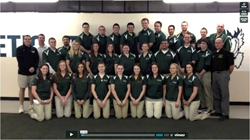 Many consider athletic trainers (ATs) to be the premier provider of sports health care and each March, ATs and supporters work together to promote sports safety during National Athletic Training Month (NATM).
Rochester, NY (PRWEB) April 17, 2014
Athletic trainers (ATs), as health care professionals who collaborate with physicians to provide preventative services, emergency care, clinical evaluation, therapeutic intervention and rehabilitation of athletic-related injuries and medical conditions, understand the critical issue of sports safety. Many consider ATs to be the premier provider of sports health care and each March athletic trainers and supporters work together to promote sports safety and recognize the athletic training profession during National Athletic Training Month (NATM). In order to celebrate NATM and recognize ATs and their efforts, NYSATA held a variety of events this March aimed at professionals, future professionals, and the public alike.
The second annual Athletic Training Education Program (ATEP) Student Video Contest drew entrees from five of the eleven accredited ATEPs in NYS - Alfred University, Canisius College, The College at Brockport, Daemen College, and Marist College. The students were challenged to create a brief video depicting how, as ATs and ATSs, "We've Got Your Back." The overall contest winner, for the second straight year, was The College at Brockport ATEP whose video was directed by ATSs Tyler Carr and Christina Hollis. The Daemen College ATEP video, produced by ATSs Ryan Bohn, Shelby Knoeller, Bambi Horton, Kerry Guerin, and Jamal Cort, took a strong second. Third place ended in a tie between the Marist College ATEP (produced by ATSs Erin Schroeder and Jessie Ely) and the Alfred University ATEP (produced by ATSs Eden Palmer and Cameron Apt). The contest drew nearly 2,100 total votes in just one week of open voting and videos can still be viewed on the NYSATA website. In addition to a monetary award toward AT-related student development, the winning ATEPs will be recognized at the 2014 NYSATA Conference in Jamestown, NY this May.
The NYSATA Twitter Trivia contest challenged its followers again this year. Participants accumulated points throughout March by being the first to correctly respond to various NYSATA- and AT-related trivia questions. Out of a pool of six participants from in and out of NYS, Meg Greiner, MS, ATC, athletic trainer at Hendrick Hudson High School (Montrose, NY) was the top finisher with Mike Hopper, ATC, from the state of Illinois coming in second. NYSATA also promoted two Twitter Blast initiatives, and together with the Trivia Contest, added over ninety new followers to Twitter @GO_NYSATA, #NYNATM2014.
NYSATA also created a Facebook Group for ATs, students and other medical professionals to network with one another. The Group, which debuted during NATM 2014, has drawn nearly sixty members in the first month and will remain open to new members indefinitely. Thanks to all who have joined and congratulations to John Eaton, ATC of Portville, NY (AT for the University of Pittsburgh at Bradford, PA) for winning the new member prize drawing. Check out the NYSATA Group on Facebook and request to join today!
In order to promote lobbying efforts for the AT bills, A6678 and S4465, currently in the NYS legislature, NYSATA also initiated a Legislative Letter Writing Campaign and a Physician Petition in March for NATM. A special thank you to all who are advocating for the AT bills by contacting their local legislators, especially the nearly forty ATs and ATSs who participated in the Letter Writing Campaign and numerous physicians who have signed the petition. Congratulations to the four individuals who were randomly selected from the many Letter Writing Campaign participants to win the prize drawings: Sheri Zappala, MEd, ATC (Adelphi University) and Scott Sidden, MS, ATC, CSCS (Hamilton College), as well as Amanda Tiffany, ATC (Lakeland HS) and Carol Guzinski, ATC (North Rockland High School) – both of whom helped save lives in the past year using emergency cardiac care, including an AED.
For the second consecutive year, NYSATA also secured a NYS Resolution officially proclaiming March as Athletic Training Month in New York State for 2014. The Resolution was sponsored by NYS Assemblyman Charles Lavine (D-Long Island) and Senator Mark Grisanti (R-Buffalo) who also are the primary sponsors of the AT bills, A6678 and S4465, respectively. In addition to the NYS Resolution, two local Proclamations were obtained this year on Long Island in recognition of National Athletic Training Month – one for the Town of Huntington and the other for Suffolk County.
In addition to the NYSATA-sponsored initiatives, there were various other NATM events held around NYS. The NYS Public High School Athletic Association (NYSPHSAA) thanked all secondary school athletic trainers with an official statement on their website's Safety and Research page during NATM.
The Stony Brook University (SBU) ATEP again visited the Today Show Plaza with NATM signage, this time organizing a much larger event, with certified athletic trainers (ATs), athletic training students (ATSs), and student-athletes from at least ten colleges and universities from four states joining the efforts. In addition to SBU, the NYS contingent included ATs and ATSs from five other institutions: SUNY Cortland ATEP, Dominican College ATEP, Hofstra University ATEP, LIU Brooklyn ATEP, and Farmingdale State College (SUNY) Athletic Training staff and student-athletes.
Four Westchester County athletic trainers and an AT-supportive physician, Dr. Lou McIntyre were hosted on "The Scorecard" [WFAS 1230AM], a 2-hour sport-centered radio show that did a focus on Athletic Training for NATM. In western NY, three ATs had the opportunity to promote NATM via two Buffalo-Niagara region television shows - LCTV's "Sports Magazine" (Lockport, NY) and the Niagara Falls High School student-run news program.
Numerous high schools and colleges hosted concussion awareness presentations featuring Ray Ciancaglini of The Second Impact in honor of NATM. West Irondequoit and Eastridge High Schools (Irondequoit, NY) teamed up to offer the presentation to student-athletes, their parents, coaches, and school district officials. SUNY Cortland hosted Ray as the keynote speaker at their Sports Medicine Symposium along with three other speakers including athletic trainers Lou Rende and Aimee Brunelle. Ithaca College and the College at Brockport (SUNY) each also hosted Ray for presentations open to ATSs, student-athletes, athletics staff members and coaches of intercollegiate athletics, as well as club sports.
The Canisius College ATEP held AT skill-related competitions and relay races, coined 'AT Olympics'. SUNY Purchase and Marlboro High School promoted NATM to their school communities through, respectively, a website announcement and posting flyers around the school.
NYSATA, founded in 1976 and incorporated in 1989, stands to advance, encourage and improve the profession of athletic training (AT) by developing the common interests of its membership for the purpose of enhancing the quality of healthcare for the physically active in New York State. Comprised of over 1,200 certified and practicing athletic trainers, NYSATA is the state-wide affiliate of the regional Eastern Athletic Trainers' Association (EATA) and District Two of the National Athletic Trainers' Association (NATA).