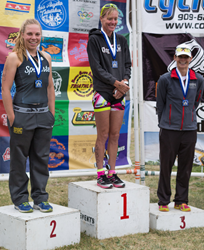 Santa Monica, CA (PRWEB) April 17, 2014
Two USC Triathletes, Grace Privett and Corey Norris, competed in the Bonelli Triathlon Series in San Dimas, CA on rented bikes from a peer to peer bike share platform called Spinlister. Both triathletes raced on rented bikes, owned by local triathletes, and placed first in their age group. Privett went on to place 2nd overall for women in the Championship Distance, finishing behind her longtime idol and 2006 Ironman winner Michellie Jones.
Prior to race day Grace wanted to find out how much a better bike could actually improve her performance. "I rented a sweet $9,000 triathlon bike for $50 on Spinlister from this really nice guy named Jonathan. He let me pick up the bike early and made traveling for the race painless and easy. His bike was so much faster than I expected. Without it I might not have placed second. I can't wait to use this service for other races!" says Privett.
Grace beamed with joy when she found out that she placed 2nd and lost only to her longtime idol Michellie Jones. "I've loved Michellie Jones since I saw her win Ironman back in 2006. She's an incredible athlete and a very nice person. She took photos and signed autographs for everyone at the race. Losing to her still felt like a win!" says Privett.
Spinlister is excited to hear about stories like this happening worldwide. List your triathlon or road bike at http://www.spinlister.com/list to help others compete and to make money off your bikes.
About Spinlister:
Launched on April 1st 2012, Spinlister is a peer-to-peer global bike share that allows users to rent and list bicycles, skis, and snowboards from each other in over 50 countries worldwide. With their seamless web, iOS, and android apps, built-in security features, and a database of user reviews, Spinlister has won the trust of communities of cyclists, skiers, and snowboarders all over the globe.