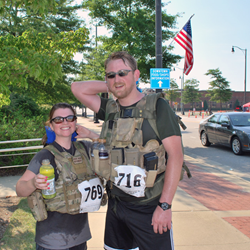 Fayetteville NC (PRWEB) April 17, 2014
Fayetteville and Cumberland County is quickly becoming a destination for marathons, fun runs, and specialty running events. Whether you are a serious runner working to set a personal record or charting your times future events; or a weekend runner interested in having fun while you are active, there's a run for you in 2014. Here's a sample of the what's happening this spring and summer.
May 4 - Runners in the inaugural All-American Marathon and Mike-to-Mike Half Marathon will travel through Fayetteville, NC ending on Fort Bragg home of the US Army Airborne. An All American 5K starts shortly after the full and half marathon. All three races are USA Track & Field certified and the All American Marathon is a qualifier for The Boston Marathon. http://www.fortbraggmwr.com/allamericanmarathon/5k/
May 23 - The Great Glow Run starts at 8:30 p.m. in downtown Fayetteville. Participants in the Great Glow Run, which is a fund-raiser for Easter Seals, receive Glow necklaces and bracelets, moisture wicking 2014 Great Glow Run T-shirt, access to the Glow Crazy Zone (optional glow paint body decoration) and access to the Afterglow Party.
May 24 - The Color Run comes to Fayetteville as part of the Kaleidoscope Tour. Known as "The Happiest 5K on the Planet," The Color Run is a five-kilometer, un-timed race in which "Color Runners", are doused from head to toe in different colors at each kilometer. Runners wear white at the starting line and finish the race doused in color. The fun continues after Color Runners complete the race with an unforgettable Finish Festival with music, dancing, and massive color throws, which create millions of vivid color combinations.
June 7 - The Airborne & Special Operations Museum holds its 7th Annual 5K/10K "Run for the Legend," to support the museum's operational and educational activities. Run for the Legend is a chipped race and sanctioned by USA Track & Field (USATF). The course starts and ends at the museum. http://www.asomf.org
July 3 - The Inaugural Freedom Run 5K & 10K is a unique evening event for region. It is the first time for Fayetteville and its community to have an official Road Race in the evening. The event starts at the Medical Arts Center in Fayetteville and uses some of the existing flat, and fast USA Track & Field Certified Courses. The race is timed – and awards are given in each major category.
July 4 – The Fayetteville Running club holds the first Firecracker 4 Miler, a 4-mile course winds through the beautiful and historic parks and museums of downtown Fayetteville. The Firecracker 4 miler is a green event. Limited printed materials are available, and runners will be supplied with virtual race bags.
August 2 - The American Red Cross holds its annual Run for the Red 5K, 10K and 1 mile fun run at Festival Park in downtown Fayetteville. The first 500 registrants receive a t-shirt. All proceeds from this run, billed as the "hottest run in town" go to the American Red Cross.
A full listing of upcoming running events can be found here.
If you're visiting for any of these events, we've got a room ready. Book your hotel room here.
About the FACVB
The Fayetteville Area Convention & Visitors Bureau is a private, not-for-profit organization responsible for positioning Fayetteville/Cumberland County as a destination for conventions, sporting events and individual travel. For additional information, visit http://www.VisitFayettevilleNC.com or call 1-888-98-HEROES. Fayetteville/Cumberland County is the America's first military sanctuary. Through the Army's Army and other volunteer groups, our citizens and businesses are dedicated to "watching over those who watch over us ©."