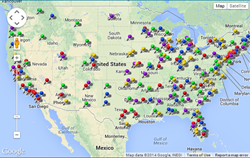 Atlanta, GA (PRWEB) April 18, 2014
1-800 Courier, a national leader in same-day delivery, distribution and transportation services, announces new dispatch center and main office coverage map for nationwide same-day delivery. This effort to offer its customer additional online visibility tools, expand its customer base and increase service growth. 1-800 Courier strives to be the best choice for superior same-day delivery courier solutions nationwide.
The dispatch center and main office coverage map is found on the home page of 1-800 Courier's comprehensive website and is accessed via the coverage map link. The map highlights the various main offices and dispatch locations the courier has available for its' customers nationwide. 1-800 Courier has main offices in Los Angeles, San Francisco, San Diego, Sacramento, Atlanta and Mountain View. The customer can click on the national coverage map and it is linked to the courier's coverage page.
The map displays 1-800 Courier's national dispatch locations and the top 50 locations are listed also. There are colored pins that symbolize active locations as well. The map also enables customers to have live interaction and they can locate exactly where the nationwide courier provides service in correlation with their offices. The list ranges from the top 50 dispatch center locations, to over 250 locations throughout the US.
The coverage map also shows corporations and business with multiple locations that 1-800 Courier can be a one-stop source for same-day delivery. The same-day courier utilizes modern technology to promote superior service and a user-friendly, online experience. Whether it is small business or large corporation, the Minneapolis courier will continue to offer a wide range of courier services for its' customers and account holders, including on-demand same-day delivery, nationwide courier services, same-day bike service, multiple location courier services, mail route logistic solutions, long-distance freight same-day delivery, straight truck delivery services, less-than-truckload shipping and more.
1-800 Courier is a recognized leading same-day courier of same-day delivery, transportation and distribution services nationwide. From small packages to palletized freight, 1-800 Courier delivers on-time and fast! From its' headquarters in Atlanta, Georgia, 1-800 Courier successfully services a growing list of over 1,500 clients, including Fortune 500 Companies throughout the US.