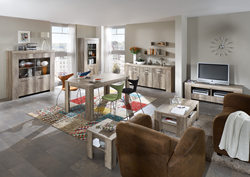 (PRWEB UK) 18 April 2014
With fashion spreading its wings across different sectors, one can see its effect in furniture as well. The days are gone when you would have typical kinds of furniture in all houses. Now-a-days you can buy and embellish your homes with different varieties of furniture ranging from antique designs to contemporary ones. One such popular furniture, which gives the look of elegance and suitableness to the décor of your room, is Monalisa oak furniture solutions.
Furniture in Fashion offers you with plenty of Monalisa furniture solutions such as sideboards, TV stands, coffee table, side table, and display cabinets. All these are made from wild oak and are available as flat packed at affordable prices. They are popular for their solid wood construction and design. The oak gives them a more rustic and traditional look to the furniture. Amongst these, people have high preferences for sideboards and coffee tables.
Monalisa sideboard made out of oak wood, has three doors and three drawers to it. These drawers have metal handles and rails in the wild oak finish. The sideboard has dimensions of height 89cm, width 200cm, and depth 51.5cm. The coffee table has an open compartment and an additional drawer for extra storage having metal handles and rails in the wild oak finish. The table has dimensions of height 41cm, width 110cm, and depth 59cm. Although these two are people's favourites there have been many happy buyers of other products as well. One such happy customer responded by saying, "I am so much in love with this new coffee table that I spend more time in the living room. It is not only easy to move, but also to clean."
Oakwood is one of the trusted forms of wood used for furnished apartments and homes. This wood is known for its strength and reliability, and is very resistant to insects and pests as it has high tannin content. It has grain marks which are very appealing, especially when quarter sawn. It is also used in timber frame buildings, flooring and for veneer production. This wood comes from sustainable forests and the long life of the wood averts it from getting replaced by other wood or metal furniture. It does not even require any chemical treatment which may be harmful to the environment. Hence, it is a very environmentally friendly wood. These qualities of it make it pleasing for a buyer to make the purchase.
Furniture in Fashion has a huge range of furniture products to choose from, which would suit each and every room of your house. All its products are specially crafted in Germany. Its offerings fall in a reasonable range and are also as per the latest trend. You can avail its free shipping service for your furniture to get the best deal. Browse for its products at the official website http://www.furnitureinfashion.net.