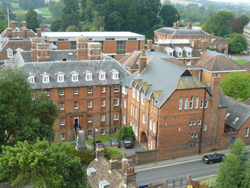 "Schools that are known to have problems with drugs and alcohol and accept 'all-rounders' will turn out students that are perhaps not as focused on their own academic performance."
(PRWEB UK) 22 April 2014
A recent article in The Telegraph[1] (Victoria Lambert, Why everyone wants a Marlborough missus, 25 March 2014) declares that girls who go to the elite private school, Marlborough College, end up as "pillow-talkers to the great and good".
The article quotes the Tatler Schools Guide, which rates Marlborough extremely highly. One of the editors of the Guide says: 'Yes, they have excellent exam results but they are looking for all-rounders, so although they are increasingly popular, they are not raising the academic assessment to get in.'
But the article's author, Victoria Lambert, herself asks whether the parents who shell out "the £30,000-a-year fees hoped for more for their daughters than a future as trophy wives?"
Adam Caller, who founded Tutors International in 1999, today commented on the article, declaring that it is not just the school that is at fault - the huge amount of peer pressure on girls in particular to be popular rather than academic is also to blame.
"It would be wrong to imply that some schools coach their female pupils to catch successful husbands, however, it can't be ignored that some independent schools accept students on merit, and others don't.
"From our own experience with these schools and the girls that attend them, there is a greater drive towards academic brilliance in the schools that have entrance exams.
"Some private schools that are known to have chronic problems with drugs and alcohol, and pupils will aim to be popular and fit in with their peer group, rather than focus on their academic career."
Tutors International provide full-time and after-school private tuition to wealthy families all over the world, and have tutored many privately schooled children who either need extra academic support, or who have left school because of poor educational standards or having suffered some form of bullying.
Mr Caller continued, "The huge advantage of home-schooling is that the student's focus can be whatever they and their parents wish for. Rather than being a product of their peers, parents can decide the goals they think most essential for their daughter's future."
Mr Caller advises that parents consider their child's personality, the social culture of the school, its reputation, and its academic results when deciding on a private school. He urges parents to remember that simply because a school is fee-paying, that doesn't ensure its academic brilliance, and pupils will tend to fall into step with their peers.
References
[1] http://www.telegraph.co.uk/news/uknews/kate-middleton/10719247/Why-everyone-wants-a-Marlborough-missus.html, Victoria Lambert, Why everyone wants a Marlborough missus, 25 March 2014.
-ENDS-
Notes to Editors:
Tutors International is a worldwide organization providing experienced full-time private tutors to work with children of all ages and nationalities, in a wide variety of situations, including international relocation, after-school support, full-time home tuition, support for AD/HD and dyslexia, home schooling for frequent travellers, and college prep and coaching.
Tutors International was founded by Adam Caller who has tutored students of all ages. He has received specialist training in dyslexia and AD/HD and is very sensitive to children's educational difficulties. He has now turned this expertise to recruiting, training and placing other tutors with HNW and UHNW families around the world. Adam is a member of the Independent Educational Consultants Association (IECA).