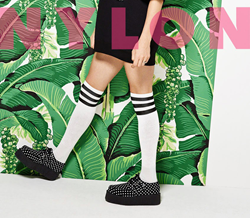 New York, NY (PRWEB) April 18, 2014
The perpetual It girl, Sienna Miller marked her fourth NYLON magazine cameo in some of T.U.K. Footwear's latest mondo creeper styles. In the issue, Sienna showed off her cool spring style in her classic black & white polka dot creepers and in her fresh floral creepers.
T.U.K. also just released a new line of wrap-soled creepers featuring polka dots, glitter, and leopard. Check out the video here: http://youtu.be/GjYqmNJymCo.
Sienna talks about getting engaged (to actor Tom Sturridge), being a mother, and possessing a whole new outlook on acting. However, she's just as cool (or even cooler, if that's possible?) this time around. Get a sneak peek of her interview and photoshoot here, and pick up NYLON's April issue on newsstands now.
About T.U.K. Footwear
Since their start in 1991, the San Diego, CA based footwear company T.U.K. has been creating bold, original footwear for men and women. Footwear made for and inspired by bands, music fanatics, fashionistas, and individuals with eclectic tastes. With their huge range from traditional classics to modern upstarts they are constantly providing creative style with an original edge.
For more information, please visit http://www.tukshoes.com.