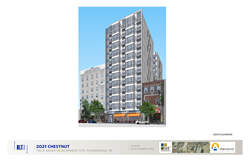 This will be one of the most beautiful and versatile buildings in Philadelphia.
Philadelphia, Pa. (PRWEB) April 18, 2014
MB1 Capital Partners and Aquinas Realty Partners today announced the official groundbreaking for the construction of the AQ Rittenhouse, a mixed-use, apartment-retail-classroom tower at 2021 Chestnut Street in Rittenhouse Square, Philadelphia.
The $40 million complex, due to be completed by the end of the year, will be constructed on the site of the former Philadelphia YWCA Annex which was built in 1954 but vacant and blighted for more than a decade. The new 12-story building, designed by BLT Architects of Philadelphia and being constructed by Clemons Construction Company of Philadelphia, will also include classroom, lab and activity space for the adjacent Freire Charter School.
Joel Brudner, Managing Partner of MB1 Capital Partners, noted AQ Rittenhouse will also include 4,500 square feet of retail space on the ground floor, as well as a 1,500-square-foot mezzanine as other components of this new 12-story apartment tower.
Brudner noted the key component of the building will be 110 upscale apartments in studio, one- and two-bedroom units to help meet the need for quality housing in Center City. The signature feature of the building will be its large exterior windows and Juliet balconies.
"This will be one of the most beautiful and versatile buildings in Philadelphia," Brudner said. "The plan also includes a second-floor terrace, a center courtyard on the eighth floor, and a rooftop sky terrace and lounge that will offer incredible views, all within the tremendous location in Rittenhouse Square."
As the development will cater to professionals, other amenities include a fitness center, 24-hour doorman and concierge, fitness center, Wi-Fi cafe, bike storage and even a dog washroom.
"I cannot describe to you how bad of a building [the YWCA Annex] was," said Philadelphia Mayor Michael Nutter in his remarks at a recent groundbreaking ceremony. "There are many, many challenging properties, but this particular property, literally located wall to wall with a charter school where students are trying to get an education, was a terrible property. It will now be transformed into a beautiful property.
"By replacing this dilapidated property with a 110-unit apartment building, complete with restaurants, retail shops, and our top-notch charter school, this project is taking a major step towards the revitalization of the 2000 block of Chestnut Street, but much of Chestnut Street will benefit from this project," the mayor added.
The building, which will meet the standards for LEED Silver certification, is an example of public and private interests coming together to help renew old neighborhoods, while creating jobs and endless opportunity, Brudner added.
Learn more about MB1 Capital Partners at mb1capital.com and AQ Rittenhouse at aqrittenhouse.com.
--------
MB1 Capital Partners, a private real estate investment company, invests in direct property ownership and debt instruments, as well as in joint ventures and relationship partnerships. MB1 focuses on the New Jersey, New York and eastern Pennsylvania region, as well as other select U.S. markets.