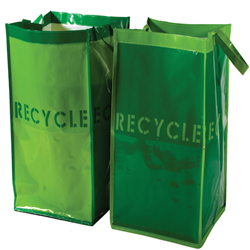 Great Useful Stuff will donate 20 percent to Earth Day Network for recycling bag purchases through the end of April.
San Francisco, CA (PRWEB) April 18, 2014
Each year, over a billion people from San Francisco to Seoul come together on Earth Day to celebrate the wonderful world in which we live and give back in myriad ways, from planting trees to initiating community sustainability awareness programs. On April 22, 2014, people all around the world will show goodwill and respect for the planet. This year's theme is Green Cities, emphasizing the idea that even though most people now live in or around cities, urbanites can still make a significant contribution to the environment by choosing sustainability whenever possible. To help in this effort, Great Useful Stuff will be donating 20 percent of all proceeds from GUS Reusable Recycle Bags to Earth Day Network (earthday.org), the non-profit organization that coordinate Earth Day worldwide, through the end of April.
Great Useful Stuff Recycle Bags (Set of 2) - $12.99
The GUS Recycling Bags have been featured in popular news outlets such as Organic Authority, Woman's Day, and The Huffington Post. Made from recycled materials, GUS bags are tough and attractive, washable and ready for anything. Far better than flimsy, wasteful plastic bags, GUS bags are totally reusable and stay upright even when filled with cans, bottles, paper, and even lawn clippings. To clean, simply wipe them out with a sponge or hose them down and let them dry. Easy to clean, easy to use, easy to do the right thing for the environment. Go green and save some green too!
Earth Day is about giving back, about making choices today that will ensure a clean and bright future for generations to come. Making simple changes can affect great outcomes; Great Useful Stuff wants to be a part of that solution.
About Great Useful Stuff:
Great Useful Stuff is a San Francisco-based online specialty retailer, focused on providing customers with simple, sleek, eco-friendly options to simplify and stay organized.
About Earth Day Network:
Growing out of the first Earth Day in 1970, Earth Day Network (EDN) works to protect the planet and its people every day. EDN has executed successful environmental campaigns on issues ranging climate change and drinking water to voter registration and saving the whale. EDN is a recognized leader in environmental education and in creating civically oriented innovative programs with partners outside of the environmental movement to tackle new challenges. Visit EDN at Earthday.org.