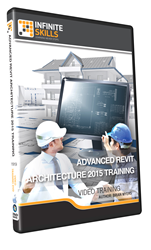 Learn Advanced Revit Architecture 2015 at your own speed.
(PRWEB) April 18, 2014
Software training firm Infinite Skills Inc. last week introduced its "Advanced Revit Architecture 2015 Tutorial," an intermediate course teaching advanced skills and techniques for architectural modeling with the powerful computer assisted design (CAD) program.
Revit is a three dimensional architectural design modeling program that makes dynamic use of the support of a building information database. Building information modeling (BIM) is used to govern all phases of a building life cycle and produce Revit's signature viewing and rendering options.
Infinite Skills' Advanced Revit Architecture 2015 Training Tutorial introduces new users to another level of control and sophistication in designing with this powerful software. Building on the basics taught in the introductory course, Learning Revit Architecture 2015, the advanced course teaches skills that allow users to add greater detail and work more efficiently.
The two courses are currently offered as a bundle at a discounted rate of $149.95.
Advanced Revit Architecture 2015 Tutorial DVD - Streaming
Course author Brian Myers has been working in Autodesk for more than two decades, starting in version 9 in 1989. For the last seven years, he has focused on Autodesk Revit, working in all of its various editions. Myers was one of the first certified instructors for Revit Architecture, in addition to his private training practice, Myers has published several video training series and edited two books. He is also the founder of Revit Users, a Revit support community found on LinkedIn.
Here, Myers alternates between advanced concepts in drawing with Revit, and exploring the suites and tool sets for documenting, viewing, and sharing, that make Revit a favorite CAD program for architects.
He begins by showing users how to define and work with families and parameters, and covers all the details of setting up annotation standards, before walking students through the options and organizational tools for beginning and planning a new project.
The course then moves into the details of drawing as Myers demonstrates advanced tools for creating walls, curtain walls, floors, stairs, ramps, and more. Students learn advanced techniques such as how to group components, create parts and assemblies, and break down and plan room areas.
Myers pays special attention to new viewing capabilities that allow users to break apart a segment of a building's structure, and analyze, plan, and design its components.
The course closes with a look at options for a final product, paying particular attention to creating Revit's signature presentations using material, lighting, 3D text, and walkthrough views.
"This course is designed to provide an enhanced understanding of Revit capabilities, along with increased knowledge of best practices when using and administrating Revit," Myers says.
Free demo videos and a full list of course contents can be found on the Advanced Revit 2015 Architecture training page on the company website:
http://www.infiniteskills.com/training/advanced-revit-architecture-2015-training.html.
Infinite Skills offers its Learning Autodesk Revit Architecture 2015 in DVD format and as a direct download from the company website at a retail price of $99.95, or as part of its new subscription service at a rate of $25 per month. All titles and formats are compatible with Mac and Windows operating systems. Shipping is available around the globe. Additionally, Infinite Skills tutorials are supported by project files which correspond to examples in the videos, allowing users to work alongside experienced instructors right on their computer or iPad.
About Infinite Skills Inc.
A leader in the field of software training, Infinite Skills designs its courses on a task-oriented model, teaching complex skills by providing hands-on examples and guiding users as they carry out essential functions. Infinite Skills offers a wide range of software titles available as DVDs, digital downloads, and in iPad editions. Infinite Skills now offers a subscription service, providing access to all its training content for a monthly fee, keeping with company's aim of delivering professional training to customers anywhere they want to learn.