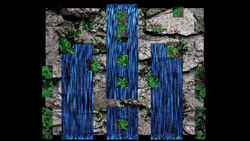 'This is a very busy and very exciting couple of months for our team.' - J Matthew Nix, project lead for Chicago Projection Mapping.
Chicago, IL (PRWEB) April 18, 2014
Chicago Projection Mapping (CPM), a Chicagoland-based content and 3D projection company, announced today the categories of their upcoming projection mapping displays for summer 2014.
The first display is for an exterior building map, in conjunction with a new brand launch in the southern United States. The CPM team has been hard at work developing a number of incredible effects, featuring custom-modeled 3D and 4D content, and precise re-renderings of the building for dramatic visuals. The display will be part of a one-night-only presentation in conjunction with a number of external elements, including celebratory fireworks display. This display serves to solidify CPM's reputation as one of the top partners for "traditional" projection mapping, especially for exterior building projection and corporate brand launches. A past example of CPM's exterior building mapping can be found here.
CPM's second display is an interior performance display on the east coast, created onstage in planned collaboration with musical guests. Chicago Projection Mapping is creating a number of top-tier mapping moments, complete with interactive triggers for the onstage performer that will include creative content spanning three-dimensional fire, thousands of moving lights, and intricate renderings of the cosmos. The display will also serve as a central focal point for visual content throughout the evening, as well as photography related to the event. This display demonstrates CPM's ability to work in a live setting, specifically by bringing dynamic energy to a live musical performance in conjunction with galas and private events. A sample of a past CPM live projection performance can be found here.
The final upcoming display is a permanent indoor installation, created for a new Chicago apartment center. The display, designed by the CPM team, is a three-dimensional sculpture that will serve as the visual centerpiece for the lobby space of the new building. Chicago Projection Mapping is custom-designing nearly a half-hour of rotating content for the display, which will feature both exceptional visuals, as well as integration with CPM's 'Songlight' visual piano system. This display will serve to showcase the team's ability to design creatively for client spaces, as well as to guide a truly exceptional display from concept to completion. A past example of CPM's sculptural projection mapping can be found here.
"This is a very busy and very exciting couple of months for our team," said J Matthew Nix, project lead for Chicago Projection Mapping. "We're excited to share these new creative developments with our clients and the world."
In addition to further release of cutting-edge projection mapping displays, CPM remains at the forefront of midwestern mapping, including architectural projection mapping, projection for live events, 3D and 4D mapping displays, and projection mapping for trade shows and corporate events. For inquiries or a free quote, please email info(at)ChicagoProjectionMapping(dot)com.
About Chicago Projection Mapping:
Based in Chicago, IL, Chicago Projection Mapping is a full service content creation and 3D projection mapping company, serving the corporate, event, meeting, and convention sectors. For more information, please visit http://www.ChicagoProjectionMapping.com, or call 630-620-0000.