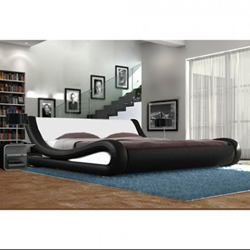 (PRWEB UK) 20 April 2014
Furniture in Fashion, which has always been very active in the market in terms of knowing the customer preferences spot on with respect to designs and other needs of the customer, has now gone ahead and launched a sale for one of its most elegant Hugo Contemporary & Modern beds.
The Hugo Contemporary and modern beds will be an absolutely brilliant addition to the bed room. Offering this version with some modern colors and designs; it is truly a must have piece of bed in the bedroom. These beds are extremely elegant and modern in terms of their looks that are sure to impress everyone after just a simple glance. These beds which are extremely comfortable and provide a sense of relaxation to the body are one of those classic varieties released by Furniture in Fashion that appeal to both the comfort and aesthetic sense. With extremely soft layers of mattress on top of the bed frame the body is sure to get the ultimate relaxation after a tired day out. Also as the name suggests the Hugo Contemporary and modern beds will blend beautifully with the entire ambience of the house and is something that each and every member in the family will enjoy sleeping on.
Also with the company launching a discount sale for these beds customers can take advantage of this offer and get these classic varieties at really less prices. A sale period is one that a lot of customers look forward to in terms of their shopping planning and expenditures. The customers would be absolutely thrilled to see these varieties of Beds which are elegance and style personified available as a part of the sale offer. The dimensions of the bed would be Color: Red, Black, white, grey; Size: about 4-6 feet depending on whether it is normal or king size;
The managing Director of Furniture in Fashion said, "Hugo Contemporary and Modern Beds product are one of the extremely modern versions of bed that appeal to both the visual sense and are comfortable; We are extremely happy to announce a sale for these sets of beds which will enable the customer to get themselves this range of bedroom furniture at rates way below the prevailing market ones."
Furniture in Fashion has a wide range of products in various categories that are available in various designs and also at all price ranges. These products have been created extremely skillfully in its Germany based warehouse and can be seen on the website and the outlet in England. For detailed information on these products and some additional services please check the official website at http://www.furnitureinfashion.net.