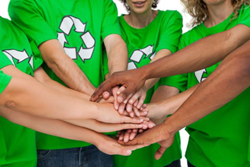 Sterling Heights, MI (PRWEB) April 20, 2014
Environmentally conscious residents know that household batteries need to be recycled, but most recycling centers do not accept Alkaline, Sealed Lead Acid, Lithium, and other battery types because of their chemical components.
"While 97% of automotive batteries are recycled, less than 20% of household batteries are recycled," expresses Battery Giant CEO Kurt Smith. "More than 300 million pounds of single-use batteries make their way into landfills each year. Battery Giant wants to assist local citizens in becoming more environmentally positive while offering a solution to meet each community's battery recycling needs." Last year, Battery Giant, in conjunction with Energy Products, another company owned by Smith, managed the recycling of over 5.75 million pounds of lead acid batteries alone.
Battery Giant invites all area residents and businesses to participate in this recycling effort to make their neighborhoods greener. Each Battery Giant store location is equipped with a "Battery Recycling Center" for collection purposes. Special green Battery Giant recycling buckets will be available to businesses, and buckets full of reclaimed batteries can be dropped off at a store or picked up by a Battery Giant specialist.
As a complimentary service to the community, Battery Giant will properly collect and recycle all used batteries. Michigan Battery Giant stores are located in Warren (5755 12 Mile Road - 12 Mile and Mound), Southfield (24508 12 Mile Road -12 and Telegraph), Macomb Township (20761 Hall Road - Heydenreich and Hall Road), and Rochester Hills (1178 Walton Blvd. - Livernois and Walton).
About Battery Giant:
Headquartered in Sterling Heights, Michigan, Battery Giant currently operates nineteen franchised retail locations in Arizona, Arkansas, Florida, Illinois, Michigan, Ohio, Panama, Puerto Rico, Texas, and Mexico. They carry a wide range of replacement batteries and battery related products. Battery Giant also offers an energizing opportunity for franchise ownership in the ever-expanding battery market.
For more information about Battery Giant, battery recycling, green power solutions, or franchise opportunities, visit their website at http://www.batterygiant.com, or contact Greg Danziger, President, at 586-446-6194.