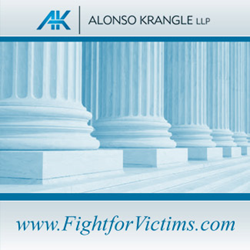 Alonso Krangle LLP is now investigating morcellator cancer lawsuits on behalf of women diagnosed with cancer. Contact the experienced lawyers at Alonso Krangle LLP by calling 1-800-403-6191 or www.FightForVictims.com
New York, NY (PRWEB) April 18, 2014
The U.S. Food and Drug Administration (FDA) warned Thursday against using laparoscopic power morcellation during gynecological surgeries on women because the procedure can potential cause the spread uterine cancer in the abdomen and pelvis. The FDA estimates that one in 350 women undergoing a hysterectomy or myomectomy to remove uterine fibroids has uterine cancer, including leiomyosarcoma, and the use of power morcellation could shorten their chances of survival.
[fda.gov/MedicalDevices/Safety/AlertsandNotices/ucm393576.htm, April 2014]
The FDA issued its warning to health care providers, doctors, hospitals, women with uterine fibroids who are considering a procedure using laparoscopic power morcellation and manufacturers of morcellators.
The FDA's notice was prompted, in part, by a Boston couple who launched a campaign last year for medical professionals to stop using morcellation. The 41-year-old woman, who is also an anesthesiologist, underwent a hysterectomy where laparoscopic power morcellation was used.
ABCNews.com reported on April 17, 2014, that the woman was diagnosed with stage IV leiomyosarcoma cancer after her surgical procedure and the hospital where she had the surgery acknowledged that the morcellator made the disease worse. ABCNews.com further reported that the woman and her husband, who is a surgeon, contacted politicians and members of the health care community, and collected nearly 8,000 signatures for a petition to get medical professionals to stop using laparoscopic power morcellation.
[abcnews.go.com/Health/couple-campaign-stop-surgical-procedure-applauds-fda-decision/story?id=23369823, April 17, 2014]
Leiomyosarcoma is a rare and aggressive form of soft tissue cancer involving smooth muscle cells in the uterine and gastrointestinal areas. There appears to be no reliable tests to diagnose possible malignancy in fibroids prior to a gynecological surgery where morcellator use is involved. Four Boston-area doctors called for halt to laparoscopic power morcellation in a draft paper published in the December 2013 New England Journal of Medicine. The doctors examined 10 studies involving 30,000 women who had undergone morcellation and found that nearly 1 in 400 women had uterine sarcoma in the tissue removed during the procedure.
[sarcomahelp.org/leiomyosarcoma.html]
Morcellation Lawsuit
The laparoscopic procedure performed using a morcellator is the focus of a current morcelation lawsuit filed in March 2014 in the U.S. District Court for the Eastern District of Pennsylvania (Case No. 14-1557) by a man whose wife died of an undiagnosed sarcoma after she underwent a hysterectomy in March 2012 at a hospital in Berks County, Pennsylvania. According to court documents, the 53-year-old woman died in February 2013, of metastatic leiomyosarcoma. The husband named as defendants, Ethicon, Inc., Blue Endo and Lina Medical, all of which manufacturers morcellators.
About Alonso Krangle LLP
Andres Alonso and David Krangle, attorneys with almost 40 years of collective legal experience, have focused their law practice on the handling of significant personal injury cases, defective drug and medical device litigation, construction site accidents, nursing home abuse, medical negligence, qui tam/whistleblower actions and consumer fraud cases. A nationwide law firm representing injured victims throughout the U.S., Alonso Krangle LLP is headquartered in Long Island, New York, with offices in New York City, and New Jersey. To discuss filing a morcellator cancer lawsuit, please contact Alonso Krangle LLP at 1-800-403-6191 or visit our website, http://www.FightForVictims.com
For more information about Alonso Krangle LLP or to join the fight and be a part of our team, please contact us at 1-800-403-6191 or visit our website, http://www.FightForVictims.com
Contact:
Alonso Krangle LLP
445 Broad Hollow Road
Suite 205
Melville, New York 11747
Toll-FREE 1-800-403-6191
Tel: 516-350-5555
Fax: 516-350-5554
http://www.FightForVictims.com