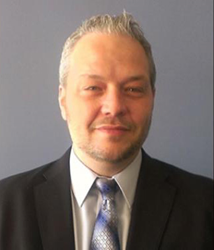 New York, NY (PRWEB) April 21, 2014
Eugene Carr, founder and CEO of Patron Technology, announced today that Joe Tish has joined the company as Senior Account Executive for their PatronManager CRM system, an integrated ticketing, marketing, and development system on the salesforce.com platform.
Before joining Patron Technology, Joe spent seven years with Tickets.com providing key leadership on client acquisition and retention, product development strategy, and account management. Mr. Tish comes with over 20 years of ticketing industry experience in the non-profit and commercial arts, entertainment, sports, and technology sectors. In his career he has been involved in every aspect of the industry, including sales, marketing, business strategy, and client services.
Tish says, "With the overload of information and media today, it is even more important than ever to know your patrons and know them well. Integrated Customer Relationship Management will be an essential tool for organizations' continued growth, and PatronManager CRM (built on the world-class salesforce.com platform) offers a powerful and affordable solution that savvy executives demand. I am excited to be joining a team that shares my passion in being integrally involved in the success of all segments of the arts, sports and entertainment industries."
"We are excited that Joe Tish is joining our team, both for his understanding of all facets of what ticketing-based organizations require to thrive and his strong belief that an integrated CRM system that combines ticketing, fundraising, and marketing will be an essential tool in the years to come."
Joe Tish is based in California.
ABOUT PATRON TECHNOLOGY: Patron Technology strives to revolutionize the arts industry by offering world-class customer relationship management (CRM) and email marketing technology. Founded in 2001 by Eugene Carr, the New York City-based company is the leader in eMarketing technology, and its PatronMail email service is used by arts and cultural clients in all 50 states and eight countries overseas. Its PatronManager CRM system, launched in 2010, was developed in partnership with salesforce.com and the Salesforce Foundation and has more than 450 clients. PatronManager is a 100% cloud-based system that integrates box office ticketing, development, marketing, and staff collaboration, enabling organizations to put all their vital customer information in one place, accessible by the entire staff. With PatronManager CRM, organizations can sell more tickets, target their marketing and fundraising efforts more effectively, provide better customer service at the box office and beyond, and make their organization more efficient. Patron Technology is dedicated to educating the non-profit community about eMarketing. In the spring of 2011, Eugene Carr (CEO) and Michelle Paul (Director of Product Development) co-authored and published the book Breaking the Fifth Wall: Rethinking Arts Marketing for the 21st Century. In addition, the company presents a regular schedule of live eMarketing seminars across the country, monthly email newsletters, blogs, and live educational webinars.
ABOUT JOE TISH: Joe Tish brings more tham 20 years of leadership and experience in the ticketing industry. Most recently, he spent seven years with Tickets.com excelling in account management and sales, and providing key leadership on client acquisition, retention, and product development strategy. Prior to joining Tickets.com, Mr. Tish served as Director of Front of House Operations for the Des Moines Playhouse with responsibilities for all ticketing operations, donor relations, volunteer training and customer service. Having held professional stage and company management positions with companies such as Gurtman and Murtha Artists, Bill Fegan Attractions, and Columbia Artists Management International, Mr. Tish brings a wealth of experience and exposure to all facets of the industry and provides a unique perspective as both a client and a vendor.
ABOUT EUGENE CARR: Eugene Carr is the CEO and founder of Patron Technology, LLC, a New York City-based company and Salesforce Channel Partner. In 1994, he pioneered online event ticketing for the arts when he founded CultureFinder.com. In 2001, he launched Patron Technology's first flagship product, PatronMail, and in 2010, he launched PatronManager CRM, Patron Technology's newest flagship product. Mr. Carr writes the popular blog Wired for Culture and his latest book, Breaking the Fifth Wall: Rethinking Arts Marketing for the 21st Century, was published in April 2011.