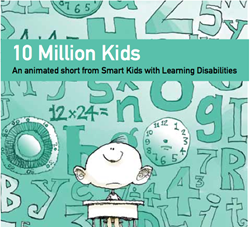 As a creative person navigating within a linear and regimented society, I had a picture in my head of what someone grappling with dyslexia must feel like.
Westport, CT (PRWEB) April 21, 2014
Pulitzer Prize-winning cartoonist, author and illustrator Matt Davies of Wilton, Conn., and producer Robert Steven Williams of Against the Grain Communications in Westport, Conn., will debut their new animated short video at the Smart Kids with Learning Disabilities benefit on April 25, 2014 in Greenwich, Conn.
Davies and Williams teamed up to create "10 Million Kids," a reference to the 10 million American children with a learning disability (LD) such as dyslexia. The short film was created with a grant from the Emily Hall Tremaine Foundation. Grammy Award-winning jazz musicians Omar Hakim and Rachel Z wrote the music for the film, and the animation is by Chris Brown.
"As a creative person navigating within a linear and regimented society, I already had a picture in my head of what someone grappling with dyslexia must feel like," said Davies. "I wanted to translate that, and create a pleasing visual narrative that would engender empathy for -- and understanding of -- a child who is dealing with the challenge of living and growing up with the additional task of managing a learning disability."
The video is part of the "Be the Difference" campaign, which will be unveiled nationwide in May, created to reach parents of the one in five kids with dyslexia and other learning disabilities in the United States.
The one-and-a-half minute video focuses on dyslexia, but Williams said that they tried to find common ground among the range of learning disabilities. "Although we use letters to show the challenge of dyslexia so that a viewer can experience the frustration, the messaging was meant for all parents that suspect there may be an issue with their child."
That message, added Williams, is that, "A concerned and loving parent, equipped with the right knowledge, can be the difference between learning how to overcome a learning disability, or having it drag them down."
The filmmakers also hope to reassure parents that they are not alone. Although Davies said he used "deceptively simple" graphics to tell the story, the video is also informative. "It gives parents who are concerned about their child enough to know they are in good company, and that there is a place to go for camaraderie and good information," he said.
Parents of children with LD are often the first to realize that there's something wrong, but they typically take one to two years to act upon that realization, according to Jane Ross, Executive Director of Smart Kids with Learning Disabilities. "Our hope is that the film will lead more parents nationwide to Smart Kids, where they can get accurate information, guidance and support, identify the problem and figure out what steps to take to get help."
Smart Kids with Learning Disabilities works to get vital information on a range of learning disabilities and ADHD into the hands of parents from pre-school through high school and into college without delay, so they can become the effective advocates and champions their children need. The group also works to dispel the myth that children with LD and ADHD are less intelligent or motivated than other children.
"These children are smart, but they learn differently," said Ross. "Early involvement by parents and teachers can help them do well in school, and make them realize that they are capable of achieving their dreams."
Smart Kids with Learning Disabilities produces a free, action-oriented e-newsletter, and a comprehensive, award-winning website that attracts 25,000 unique monthly visitors. The non-profit's website was named one of the top 101 special needs websites in the U.S. in 2013. In addition, the Smart Kids with Learning Disabilities blog was named one of the top 50 Special Ed blogs for the third year in 2013.
The 12th annual "The Sky's The Limit" gala will be held at the Greenwich Hyatt. NBC News Correspondent Kate Snow will be the Master of Ceremonies for the second year, and Gov. Dannel Malloy will be one of the speakers (Malloy has spoken publicly about his struggles learning to read as a child).
Other highlights of the evening include:

Smart Kids with LD will honor the work of James Redford (the son of actor Robert Redford) and the team responsible for making the acclaimed HBO documentary film, "The Big Picture: Rethinking Dyslexia."
Dr. Sally Shaywitz and Dr. Bennett Shaywitz, Co-Directors of the Yale Center for Dyslexia and Creativity in New Haven, will accept the 2014 Professional Achievement Award. The Shaywitzes are being recognized for their pioneering work researching LD and dyslexia, and working tirelessly to promote the unique strengths of people with dyslexia. Sally Shaywitz is the author of the groundbreaking book, "Overcoming Dyslexia."
The Fred J. Epstein Youth Achievement Award winners, who hail from all over the country.
Alice Cohen of The Windward School, in White Plans, NY, will receive the 1st annual Outstanding Teacher Award.
About Smart Kids with Learning Disabilities, Inc.:
Smart Kids with Learning Disabilities, Inc. is a Westport-based nonprofit organization dedicated to empowering the parents of children with learning disabilities (LD) and attention deficit disorders (ADHD) via its educational programs, award-winning website and blog, and free e-newsletter at http://www.SmartKidswithLD.org. The organization also educates the public about these children's gifts and talents. Connecticut Governor Dannel Malloy is an Honorary Board member, and Henry Winkler, Golden Globe award-winning actor, director and author, serves as the organization's Honorary Chairman.
For more information, visit http://www.smartkidswithld.org.