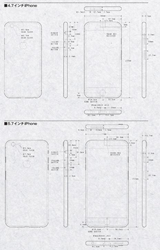 Dallas, TX (PRWEB) April 21, 2014
When mobile computing power specialist LifeCHARGE learned that details about the iPhone 6 had been leaked to the media, the company immediately got to work on designing a battery case for the soon-to-be-released smartphone. The latest addition to the LifeCHARGE battery case line will keep the re-envisioned iPhone 6 optimally charged so that owners can get the most out of their Apple investment.
Last week, Yahoo! News (http://news.yahoo.com/completely-redesigned-iphone-6-fully-detailed-huge-leak-140038639.html) shared the details of a completely redesigned iPhone 6. Among the overhauls the newest version of the Apple smartphone will experience are "a new 4.7-inch display panel" and a "much thinner" design. What's more "the bezel on the sides of the display will be reduced by between 10% and 20% so that the phone can still be used comfortably with one hand despite the larger screen."
All of these changes mean that iPhone users who plan to upgrade won't be able to take their current accessories with them. LifeCHARGE, the manufacturer of Apple charging devices, however, is already ahead of the curve. By the time the iPhone 6 officially launches, late in the third quarter of this year, the company's inventory will already feature a battery case specifically engineered to protect and charge the smartphone's newest incarnation.
For more information on how ensure an iPhone 6 stays like brand new and fully powered up, contact OnTrion's Palki Kochar. To see the full line of LifeCHARGE battery cases for the iPhone, visit http://www.mylifecharge.com.
CONTACT INFORMATION:
13650, TI Blvd., Suite #309
Dallas, TX 75243
(877)676-0877