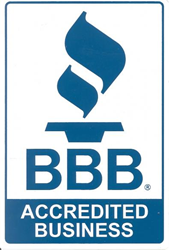 "We don't take short cuts, and we believe that every customer is a V.I.P."
Fort Lauderdale, FL (PRWEB) April 22, 2014
Body Well Therapy, commonly referred to as Body Well Mobile Massage, has been awarded an A+ rating by the South Florida Better Business Bureau, in recognition of the company's dedication to quality services and customer satisfaction since 2005.
"We don't take short cuts, and we believe that every customer is a V.I.P.," noted Daniel Melmed, Owner and Founder of Body Well Therapy. "I'm very proud of the Better Business Bureau's recognition that Body Well is a highly reputable and trustworthy company that cares deeply about its customers. We are only getting better each and every year as we mature and expand into new territories."
In order to maintain high standards of service, the company has implemented specific policies geared towards customer satisfaction. Since its founding, the company has made it a priority to have at least one customer service associate readily available to assist customers with questions and their reservations a full seven days a week, from 9:00 AM to 10:00 PM. Customers can make inquiries by phone, email, live chat online or by SMS text.
Another key factor contributing to the high rating is the thoroughness of the screening process prospective therapists must undergo to achieve active status on Body Well's roster. Therapists must not only complete a registration process including detailed questionnaires, but must submit to an in-person meeting whereby they must physically demonstrate the ability to perform an on-site massage service. This includes on-time arrival, having a minimum of necessary supplies in good working order and appearance, the ability to listen to and communicate effectively with clients, and a hands-on practical evaluation of massage skills. These steps, which are not standard practice throughout the industry, are taken to ensure the high quality of services being delivered daily to both consumer and business clients.
The company recently announced its expansion from Florida into the Mid Atlantic Washington DC Metro market, where it similarly provides corporate chair massage, licensed in-home massage therapy and therapeutic hotel outcall massage services.
Founded in South Florida in 2005, Body Well has become a premier on-site massage agency serving multiple metropolitan regions on the East Coast. The company services individuals with in home massage, in-room hotel massage, and injury therapy for automobile and worker's compensation claims, plus business clients with corporate chair massage services and event massage services. The company can be reached seven days a week from 9 a.m. to 10 p.m. at (888) 929-WELL (9355).