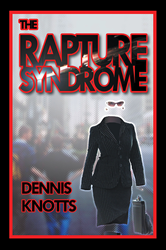 (PRWEB) April 22, 2014
It happened without warning. One moment they were there; the next they were gone.
A mission to the space station has failed. As the space shuttle re-enters the earth's atmosphere, 25 million people disappear in an instant. Was it the Rapture spoken of by ancient prophets; or was it the result of a biological organism brought back from space?
Is the recently returned-from-the-dead world leader here to help the world and can he be trusted? And what is his connection to the extra-dimensional beings who recently revealed themselves to the planet? Find out in the exciting sci-fi adventure "The Rapture Syndrome".
THE RAPTURE SYNDROME (ISBN: 978-1-62857-869-0) is now available for $17 and can be ordered through the publisher's website:
http://sbprabooks.com/DennisKnotts or at www(dot)amazon(dot)com or www(dot)barnesandnoble(dot)com.
WHOLESALERS: This book is distributed by Ingram Books and other wholesale distributors. Contact your representative with the ISBN for purchase. Wholesale purchase for retailers, universities, libraries, and other organizations is also available through the publisher; please email bookorder(at)aeg-online-store(dot)com
About the Author: Dennis Knotts lives in Southern California. He has three e-books currently available that are part of a series of Christian fantasy stories: "The Search for Logos – Book One of the Dulan Archives", "The Battle of Es-Soh-En – Book Two of the Dulan Archives", and "The Song of Es-Soh-En – Book Three of the Dulan Archives". He is currently writing "The Ballad of Pentra – Fourth Book of the Dulan Archives".
Strategic Book Publishing and Rights Co, LLC