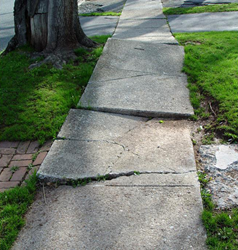 Injuries suffered on another's property whether in a home, on a sidewalk or in a commercial building or shop are often the result of negligent maintenance or even complete disregard for the safety of others.
Santa Rosa, California (PRWEB) April 23, 2014
Compensation for injuries sustained in a slip and fall accident may require the legally liable party to pay for medical bills, lost income, the injuries' occupational effect, the amount of disability and liability.
Anytime a person suffers an injury while on the premises of another party, for example by tripping over debris or falling on ice, it is called a "slip and fall" injury. Proving fault in slip and fall injuries is based on whether or not the premises owner permitted a dangerous condition to persist.
Slip and fall claims follow a slightly different process in each state. A personal injury attorney will make an assessment of the case and determine whether it can be established that the slip and fall was caused by the negligence of the owner of the establishment, at which point a claim for compensation will commence.
How Slip and Fall Happens
Situations where slip and fall might occur in a public place frequently involve the condition of walking surfaces in that it fails to meet safety standards and causes the accident. For example:

Some substance spilled on the floor
Floor surface that has become slick due to being improperly sealed
No 'watch your step' transition sign or marker between step levels
Uneven sidewalk or walkway causing a tripping hazard
Falling in a public place is more than just startling; it can also be very frightening, extremely dangerous and quite painful. As a bystander it is important to never try to move a slip-and-fall victim. Call an ambulance, remain close to the victim, and keep the person who has fallen calm. In personal situations where slip and fall has occurred it is important to try and remain calm, and if possible – make an effort to record the circumstances surrounding the accident (such as with a cell phone), alert the property owner of the situation, and be sure to seek medical attention to treat injuries and symptoms stemming from the fall. And, of course, contact a personal injury attorney for a consultation.
Two Years to File
California law allows for up to two years to file a case in court from a slip and fall accident. This two-calendar year time period usually commences on the date of the accident. If a case is not filed within those two years, the case will not likely move forward. This same time limitation is also relevant for filing a claim with an insurance company. Of course, filing an insurance claim as soon as possible after an accident will help to ensure that the two-year window doesn't become a factor.
Your Personal Injury Attorney
A personal injury attorney will assess each slip and fall case based on the likelihood of recklessness or negligence on the part of the owner of the establishment in which the accident occurred. Items that can help with this process include; photos taken at the scene, contact information for any witnesses and any written correspondence with the property owner that has taken place relevant to the accident. An attorney will also want to view medical reports and documented evidence of lost earnings.
When Compensation May Vary
California has a rule known as "pure comparative negligence" for determining a case when an injured person is partly responsible for the accident that led to their injuries. Under this law the amount of damages an injured person can expect to recover from a slip and fall accident is reduced when the 'victim' is found to be partly responsible for the accident. This type of situation arises, for example, when an accident victim knowingly ignores posted signage warning of potentially harmful scenarios – such as 'Caution – wet floor' or 'Caution – watch your step'.
In this case if the injured party decides to file an insurance claim or a lawsuit in court to seek compensation from the business establishment an insurance adjuster or jury might determine – due to the presence of cautionary signage - that the victim was 20 percent at fault for not paying closer attention to the cautionary sign. Under California's pure comparative negligence rule, in a case filed for damages in the amount of $20,000 – the award would be $16,000, representing the difference of the total damages award ($20,000) minus $4,000 that represents the 20 percent of the fault attributed to 'victim'.
Since California uses a "pure" comparative negligence rule instead of a "modified" one, this calculation remains the same no matter how much of the fault for the accident is assigned to the person who suffered injuries. For instance, if the insurance adjuster or jury had decided the case using a modified rule they could determine that the victim was 90 percent at fault, leaving the final award to the victim at just $10,000.
This legal message is sponsored by The Law Offices of Bill Kuziara. This information is not a guarantee of outcome as each case varies and consultation with an attorney is advised. If you or a family member has been seriously injured in a fall or other accident away from your home, you may have a claim. Visit our website at http://www.kuzilaw.com for more information or contact us at (707) 546-1040 for assistance and legal advice. We are with you every step of the way.