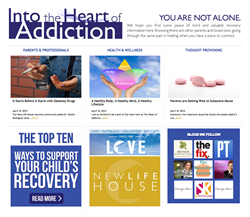 "Blogging isn't about publishing as much as you can. It's about publishing as smart as you can." ― Jon Morrow
Los Angeles, CA (PRWEB) April 22, 2014
New Life House is excited to announce the launch of their new blog, Into The Heart of Addiction. They anticipate more interaction between New Life House parents, friends, graduates, and the recovery community at large, as they discuss solutions for living a purpose-filled life substance free.
"I am very happy that we are able to reach our recovery community through our new blog, Into The Heart of Addiction. New Life House has always valued being open and accessible to our families and those affected by the disease of addiction. Lasting recovery happens when we are able to bring all the issues associated with addiction into the light, instead of keeping them secret," said Martha Lockie, Director of Community Outreach for New Life House.
Into The Heart of Addiction will contain seven categories focusing on tips, facts, health, solutions and resources regarding all aspects of addiction free living:

Parents & Professionals – guest articles featuring the parents and professionals in our recovery community
Spirit + Life = Health - all the ingredients for enjoying a healthy, balanced life
Thought-Provoking - New Life House shares its thoughts on matters they have discovered while being in the recovery business for almost 30 years
Celebrate Recovery - celebrating people everywhere who are making a difference and giving back
Life in Recovery - contributing guest blogs from young people in recovery
Trending News - Informational Articles circulating in the recovery world
The Top Ten – a bi-monthly Top Ten list of fun & informative items relating to recovery, health and happiness
New Life House believes that the new blog will benefit everyone who has a loved one, an employer/employee, co-worker, friend or family member who has struggled with the oftentimes-heartbreaking battle with substance abuse. Martha trusts that, "People will be able to find an answer or solution, a new way of approaching this age-old problem and a community of like-minded people who care, when they connect with Into The Heart of Addiction." Her goal is that the new blog will inspire people to share stories of strength, faith, health, happiness and purpose relating to living sober. Click here to see the new blog!
The New Life House recovery community has been in the business of helping young men and their families conquer the disease of substance abuse and live purpose-filled lives for more than 29 years. Their 12-step focus and peer-centered living paradigm are the elements that keep alumni returning day-after-day and year-after-year to support and guide the younger men through the recovery process. It takes a house, New Life House.