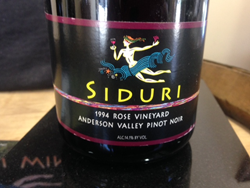 "Twenty years ago, making Pinot Noir was only a dream, and barely that. It was something that we didn't know enough about to even dream of, in any meaningful way. But, once we took that first step, we never looked back." - Adam Lee
Santa Rosa, CA (PRWEB) April 24, 2014
Twenty years ago this month, Texas-transplants, and self-taught winemakers Adam and Dianna Lee launched Siduri Wines with the purchase of their first Pinot Noir grapes from the Rose Vineyard in Anderson Valley. They made just one wine that first year, 107 cases of the 1994 Rose Vineyard Pinot Noir priced at $40/bottle. Twenty years later, the Lees have built Siduri in to one of the industry's most critically acclaimed and expansive portfolios of single vineyard Pinot Noir, showcasing top vineyards from Santa Barbara north to Oregon's Willamette Valley. Siduri still focucses solely on Pinot Noir - now more than 20 bottlings a year, most under 500 cases – and is still priced at $20-$50/bottle. As with their first Pinot Noir, the Lees continue to make every Siduri wine with an emphasis on site signature and a commitment to restrained winemaking and restrained pricing.
CALIFORNIA DREAMIN'
Pinot geeks Adam Lee and Dianna Novy moved from their native Texas to California in 1993 with a shared dream to make their own wine, and a shared bankroll that suggested they must be dreaming. Neither were formally trained, but they both knew what they liked, possessed good palates and had a voracious appetite for learning. They read everything they could get their hands on, visited countless wineries and vineyards, and took advantage of a generous community of winemakers and growers willing to share their expertise.
They made their first Pinot Noir in borrowed facilities, sleeping on cots to monitor the wine around the clock. With the boldness that comes from being new and eager, they delivered a bottle of their 1994 Rose Vineyard Pinot Noir to a local hotel after hearing that wine critic Robert Parker was staying there. He loved the wine, gave it a great review, and they were off.
FROM WAREHOUSE TO THE WHITE HOUSE
In 1998, the Lees set up shop in an industrial park in Santa Rosa, making Siduri the city's first "urban winery". Over the years, they've expanded their footprint, but continue to make Siduri, and their second label, Novy, in the same no-frills warehouse winery that has become a Mecca for pinot-files.
Believing that the potential for great Pinot – more than any other varietal – is rooted in its origins, the Lees make their wines with an unwavering commitment to:

Purchase grapes by the acre rather than the ton, to ensure quality
Keep intervention to a minimum, vinifying each wine separately by clone, block and barrel
Only bottle unfiltered and unfined to retain vineyard flavor and character
As a result, Siduri has received countless accolades over the years. The Wine Spectator has called the wines "Stellar". Robert Parker dubbed Siduri, "One of my favorite wineries" and "One of California's best Pinot Noir producers". Food & Wine Magazine named Siduri "One of Napa and Sonoma's best winery tours". And, the Wine Spectator's Matt Kramer summed it up by writing, "To taste Siduri is to taste some of the best Pinot Noir made in America today".
But perhaps the pinnacle of endorsements came this past December, when The White House selected Siduri as its featured red wine for all official holiday functions.
"Over the past two decades, we've been fortunate to receive a number of fantastic accolades and honors" remarked Dianna Novy Lee. "Certainly, having our wine served at the White House has been one of the highlights. But, we've also had our Pinots served at friend's weddings, anniversaries, graduations, and birthdays. The White House is great – but our friends' houses -- those are just as special."
Constant Innovation: Not ones to rest on their laurels, the Lees continue to push the envelope, both with their winemaking and wine marketing. Highlights include:

One of the only artisan producers to switch fully to screw top closures
Only winery to have produced, lab-tested and marketed all wines as gluten-free
Only winery to include QR code on label linked to "full disclosure ingredients" notes (beginning with 2012 vintage)
Guest blogger for Wine Spectator Magazine
Guest writer for LAX Magazine
One of first wine brands reviewed by famed rapper and nascent wine reviewer Sadat X
Featured wine at NY Vegan Design Awards Party with Russell Simmons
Selected by NFL as featured wine at 2nd Annual Global Summit, part of NFL's International Series of football games
Served at Sarah Killen's wedding - the Twitter phenom made famous by Conan O'Brien
Received video endorsement and signed bag of "blue stuff" from Breaking Bad star Aaron Paul
Selected by The White House as featured red wine at all official 2013 holiday functions.
SPECIAL ANNIVERSARY EVENT
To mark their milestone anniversary, the Lees will host a special "Celebrate 20" Open House and Tasting on Saturday, May 10th at their Santa Rosa winery. Tasting of select past vintages plus special appearances by famed Pinot Noir growers will highlight the day's events, which will also include "20th" themed wine specials, door prizes, and nibbles. For more information visit http://www.siduri.com.
ABOUT SIDURI & NOVY FAMILY WINES
Winemakers Adam and Dianna Lee burst onto the scene in 1995, when legendary wine critic Robert Parker praised their first Siduri Pinot Noir. Since then, they have established themselves as one of California's most respected winemaking teams. In addition to their critically acclaimed Siduri Pinot Noirs (10,000 cases annually, priced $20-$50), the Lees make Novy Family Wines (5,000 cases annually, priced $12 – $34) in partnership with Dianna's Texas-based family. With Novy Family Wines, they focus on varietals other than Pinot Noir, including Syrah, Zinfandel, Grenache, Pinot Meunier, Sauvignon Blanc, and Chardonnay. Both labels are produced at the Lees' warehouse winery in Santa Rosa, CA, and are available through the winery and at fine restaurants and wine shops nationally. Siduri Winery is open to the public for tastings and tours, daily from 10am-3pm by appointment.
##
Media Contact: Marty LaPlante, 707-939-1243, martylaplante@gmail.com
Winery Contact: Adam Lee, 707-578-3882, adam@siduri.com