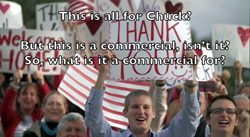 "A soldier's homecoming should celebrate his or her service. It should not be exploited as a 'reachable moment' for marketers." - D.C. Vito, Executive Director, The LAMP
New York, NY (PRWEB) April 25, 2014
As part of its 'LAMPlatoon' media literacy program, New York-based nonprofit The LAMP (Learning About Multimedia Project) released a video on Monday challenging the assumptions and partnerships behind a beer commercial. "Exploiting Our Heroes: Beer, Advertising and the Military" remixes the commercial with statements questioning the ethics of using a real-life soldier's homecoming to market a product and of a beer company's apparent partnership with the United States Military.
The original commercial, "A Hero's Welcome" has garnered over nine million views on YouTube, and features Lieutenant Chuck Nadd coming home to an elaborate surprise parade. A major American beer company sponsored the parade and used the occasion to create a commercial for the 2014 Super Bowl.
"The LAMP first encountered this ad when we were making preparations for our annual 'Break the Super Bowl' event," said D.C. Vito, Executive Director for The LAMP. "We were quite taken aback. The message co-opts an emotional event for the sole purpose of selling beer."
The video is based on reporting by Phillip Carter, a journalist with Foreign Policy magazine. When Carter contacted the Army about the apparent violation of Army regulations, he was told that the Army had vetted the ad and concluded that it was not a violation of policy. But The LAMP maintains that even in this case, the team behind the commercial should have acted more responsibly and respectfully.
"A soldier's homecoming should celebrate his or her service," said Mr. Vito. "It should not be exploited as a 'reachable moment' for marketers. As media literate consumers and producers, we all have to be mindful of why and by whom media messages are created. This video asks those critical questions."
About The LAMP:
Founded in 2007, The LAMP envisions a world of critical and active participants, and seeks to educate and equip people to shape the media landscape through hands-on learning. By transporting equipment and educators directly to schools, library branches and community centers, The LAMP is able to reach communities which otherwise have little or no access to media and technology education. For more information: http://www.thelampnyc.org