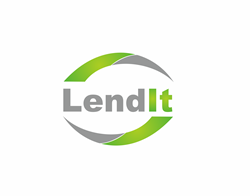 The largest P2P and online lending expo in history.
New York, NY (PRWEB) April 22, 2014
LendIt (http://www.lendit.co), the world's largest P2P and online lending conference, announced today that all of its 9700 sq. ft. of exhibit floor space has been sold out for its flagship event, making it the largest P2P and online lending expo in history.
The preeminent conference and exhibition will take place at the Hilton Union Square in San Francisco, May 4 – 6 and will once again include the most influential leaders in online lending from across the globe.
In addition to featuring the largest exhibit hall of P2P and online lending portals, LendIt 2014 will provide the most comprehensive educational programming. More than 100 panelists and speakers will be sharing their expertise through panels, presentations and hands-on workshops during the course of the two days.
As the industry explodes with new technologies, solutions and applications, LendIt will also be featuring a number of live company presentations and demos that will help LendIt attendees remain on the forefront of industry innovation.
More than 800 attendees comprised of institutional investors, private wealth managers, family offices, select members of the financial media, individual investors and industry participants are expected.
"We've increased our exhibitor space over 600% since last year's inaugural conference," said Peter Renton, Co-founder of LendIt and Founder of Lend Academy. "This is a true testament to not only the success of the LendIt conference brand, but of the remarkable growth of the P2P and online industry."
Exhibit hours are Monday, May 5th from 730 a.m. to 7 p.m. and Tuesday, May 6th from 730 a.m. to 4 p.m. To view a complete list of companies exhibiting at LendIt 2014, please visit http://www.lendit.co.
Those interested in attending are encouraged to register as soon as possible in order to ensure ticket availability.
Buy-side institutions interested in purchasing their LendIt 2014 tickets with soft-dollars, via Instinet, should contact dara(at)lendit(dot)co.
Press Registration Information
Credentialed members of the news media may receive complimentary registration which includes access to the entire program including the exhibit hall. If you are a member of the media and interested in a press pass, please email press(at)lendit(dot)co.
About LendIt
LendIt is the preeminent global conference organization dedicated exclusively to the P2P and online lending industry. LendIt events showcase leading and emerging online lending platforms, the ecosystem of Big Data companies that are serving the sector, as well as the Wall Street firms that are providing innovative financing structures and investment capital to this rising asset class. LendIt 2014 is expected to draw institutional investors, financial analysts, private wealth managers, family offices, individual investors and media representatives from across the globe.