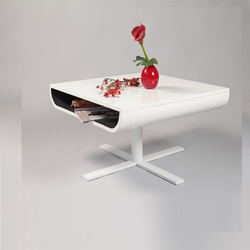 (PRWEB UK) 25 April 2014
Furniture in Fashion which has been actively coming up with new designs in order to meet the growing customer needs has now launched a Mia wooden coffee table in a black and white color that will fit beautifully with the ambiance of the living room.
The Mia wooden coffee table has been constructed using black and white finish with a high gloss lacquered melamine material of thickness 18 mm and base of stainless steel. It has been made of the highest possible quality of material and has a square top that can be used for placing the coffee materials and also other useful stuff like books and magazines. The base of the table has essentially 4 feet and the top has a lovely and glossy finish. The black and white color scheme will give a contrasting look to the table that is sure to give a wonderful color scheme. The table will also leave a lasting impression on people who visit the house. The table can be assembled in the house itself. It can also be used to keep decorative stuff like a flower vase.
A lot of families these days are intending to buy coffee tables as a part of their furniture collection. A coffee table is a place where people tend to have stimulating conversations over a cup of coffee and so people like to buy a table that is not very expensive but it fits in with the overall environment of the house. The company has always come with new designs for such tables and the latest Mia wooden coffee table in black and white is sure to attract the customers both aesthetically and from a value perspective. The coffee table can be placed anywhere in the house; although it is preferred to be in the living room, however it will not look out of place even if its kept anywhere else. The overall dimensions of the coffee table are H42 x W80 x D80 cm.
The managing Director of Furniture in Fashion said, "The Mia wooden coffee table in black and white is an exquisite coffee table and is something we believe will add great value to the furniture of every household. Having a cup of coffee over this table will be an amazing experience in itself."