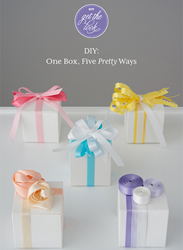 Dunmore, Alberta (PRWEB) April 24, 2014
Handmade notions have always had a place in the wedding industry. From DIY favors right up to hand-embroidered gowns, there's no doubt that the custom touches of homemade décor and accessories have always been intertwined into most couple's ideas of the perfect day. However, with the brand new resurgence of homespun accents inundating brides-to-be, many couples are wondering where they can find the time and knowledge to create such crafty wares. Realizing that the modern couple needs something more than an idea, Weddingstar has made obtaining the handmade look simple and budget-friendly with their new string of DIY blog posts.
Be inspired with the step-by-step tutorials here: http://blog.weddingstar.com/category/wedding-diy-2/
What Can Couples Expect to Create with Weddingstar's Handmade Tutorials?
Offering easy to follow guides, Weddingstar now offers couples the ability to create and design custom accents and décor for their wedding days with their dream wedding in mind. Showing the steps to customize basic products from ordinary to extraordinary, Weddingstar has ensured that today's couples can easily create any one of their chosen budget friendly designs in as little as an hour.
With time restraints, budget and novice skill levels in mind, Weddingstar is now showing brides and grooms alike how to make projects such as:

DIY favors with differing looks offered from simple touches of ribbon or tags
customized centerpieces that are perfect for the head and guest tables
ceremony accents to lend a touch of personal style to the aisle, the altar and more
Personalized Perceptions – The Versatility of DIY Designs
Of course DIY has always been popular because of the versatility it offers each individual couple – and this premise is exactly what has kept Weddingstar's handmade features running strong. Backing each one of their full tutorials, Weddingstar offers something different by sharing ways for couples to take the design one step further with a custom color range or accents.
In their post, One Box Five Pretty Ways, Weddingstar shows couples how to create five different looks with one simple white favor box. Illustrated with differing color palettes, Weddingstar then invites couples to take the idea and make it their own, finding their wedding colors amongst the 30+ hues of satin ribbon Weddingstar offers.
This too is the same notion at play in Bling Bridal Bouquets where brides can see simple ways to create a custom bouquet with their favorite wedding florals using a few simple tricks to add their own style into the mix.
See these tutorials and more to learn how Weddingstar is crafting a new vision of the handmade wedding here: http://blog.weddingstar.com/category/wedding-diy-2/
About Weddingstar
Weddingstar Inc. is one of the world's leading designers, manufacturers and retailers of wedding decorations and accessories. Dedicated to providing quality service to brides around the globe, Weddingstar ships to over 100 countries worldwide with distribution points in Europe, North America, Argentina, Australia and Russia. Featuring an ever-expanding selection of bridal accessories with over 3,000 different product offerings, Weddingstar is a one stop destination for every wedding need. With 30 years of experience in the wedding industry and having received numerous business awards, Weddingstar has earned a reputation as the source for 'Putting the Wow into Weddings.' For more information please visit http://www.weddingstar.com.