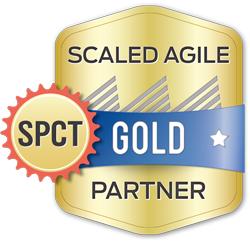 "This is a game changer for the SAFe community. Until now, SAI was the sole organization with the SAFe knowledge and experience to train and certify SPC candidates."
Boulder, CO (PRWEB) April 23, 2014
Scaled Agile, Inc. (SAI), the international certifying organization for practitioners of the Scaled Agile Framework (SAFe™), today announced a new certification program called the SAFe Program Consultant Trainer (SPCT). Seven newly certified SPCTs have been named as the program's inaugural recipients.
The primary objective of the program—to drive partner and global enterprise success through the adoption of the Scaled Agile Framework—will be realized through the program's key benefit: the sanctioning of SPCTs to train and certify SAFe Program Consultants (SPCs).
SAI has established this new certification to provide a means of recognizing individuals who demonstrate superior knowledge, competency, and in-depth field experience in adopting agile across an enterprise with the Scaled Agile Framework. Only SAI Gold Partners are eligible for the program, and all SPCT service delivery must be under the auspices of the partner entity, brand, and quality promise.
"This is a game changer for the SAFe community," said CEO Drew Jemilo. "Until now, SAI was the sole organization with the SAFe knowledge and experience to train and certify SPC candidates."
"SPCT certification is awarded only to individuals who have distinguished themselves through years of fieldwork, classroom instruction, and ongoing study of Lean|Agile and Product Development Flow best practices," said Jennifer Fawcett, VP of Scaled Agile Academy. "Once a candidate has satisfied an extraordinarily deep list of pre-requisites, they are scored on an aggregation of their resumes and applications, peer review results, exam scores, real world experience, and an overall assessment by our leadership."
Dean Leffingwell, Chief Methodologist and creator of the Framework added, "The amount of dedication and energy required to deliver the SPC courses, know the content, and teach from experience is unprecedented. We are proud to have this exceptionally talented group of individuals teach and coach enterprises on the Scaled Agile Framework."
SAI is pleased to announce the inaugural SPCT class of 2013 and acknowledge the following individuals who have achieved SPCT certification to date:

Ken France (Blue Agility)
Brian Tucker (Ivar Jacobsen Consulting)
Martin Olsen (ICON Consulting Services)
Al Shalloway (Net Objectives)
Gillian Clark, Gareth Evans (Assurity)
Mark Richards (Context Matters)
Recognizing the importance of the Gold partners to this program, Francis Kelly, VP of Partner Development states, "Our Gold partner sponsors and SPCTs are truly an extension of SAI. SAI recognizes the investment and dedication to achieve this level of certification and realizes that in order to support the enterprise, they support the fan out model of SAFe worldwide."
The SAI Gold Partners sponsoring the first SPCT graduates are:

Assurity
Blue Agility
Icon Technology Consulting
Ivar Jacobson International
Net Objectives
Rally Software
The next SPCT class is scheduled for September 2014. Requirements for the program are available at ScaledAgileAcademy.com/spct. All interested candidates should apply through their Gold Partner employer or sponsor, and acquire the pre-requisites early in order to be accepted into the program.
About Scaled Agile
Based in Boulder, Colorado, USA, Scaled Agile, Inc. is a privately held company whose mission is to help software-dependent companies achieve better outcomes, increase employee engagement, and improve business economics through adoption of Lean|Agile principles and practices based on the Scaled Agile Framework. To learn more, visit http://www.scaledagile.com.
Scaled Agile Framework® and SAFe™ are trademarks of Leffingwell, LLC. and Scaled Agile, Inc.