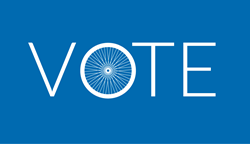 Above all, we look forward to inspiring more people to bike to work, reduce their carbon footprint, and lead healthier lives!
Minneapolis, MN (PRWEB) April 23, 2014
Dero is proud to announce its first Pinterest contest finalists: Bradd Celidonia from Green Building Alliance (GBA) of Pittsburgh, Pennsylvania, and Susan Wilcox of BikeTexas located in Austin, Texas. Starting Wednesday, April 23, 2014 through Wednesday, April 30, 2014, the public will be able to vote for either of the finalists' Dero Dream Bike Room Pinterest boards to decide who wins a Dream Bike Room for their workplace – up to $7,500 in Dero products and $1,000 to decorate and furnish the space.
Visit http://www.dero.com/dreambikeroom/vote.html to vote. Webpage will go live for voting on April 23, 2014 and voting will end 11:59 pm CST on April 30, 2014.
Submissions
Finalist: Bradd Celidonia
Organization: Green Building Alliance
Location: Pittsburgh, PA
Website: http://www.go-gba.org
Pinterest: http://www.pinterest.com/gogbapgh/
"With a LEED Platinum office space and recognized by Bike Pittsburgh as a bike friendly employer, we realize the importance of cycling and the myriad benefits it has for our staff, their health, and the planet. Even in a very sustainably-minded organization like Green Building Alliance (GBA), of 19 staff and interns, there's a mix of regular, seasonal, occasional, irregular, and non-bikers. Whether the GBA bicyclist is GBA's CEO or intern, those of us who have ever used our current bike room find it sad and dingy. We believe that a gorgeous new bike room from Dero could become the centerpiece of our LEED Platinum office – and we would love to show it off to the hundreds of people who tour our office space every year, whether on formal tours or just as general visitors. Our vision for the coolest bike room in Pittsburgh starts with our commitment to biking as an alternative to carbon-based transport and showcasing how Dero's fabulously awesome products make bike commuting, transportation, storage, and display all easier, fashionable, sustainable, and fun! Above all, we look forward to inspiring more people to bike to work, reduce their carbon footprint, and lead healthier lives!"
Finalist: Susan Wilcox
Organization: BikeTexas
Location: Austin, TX
Website: http://www.biketexas.org
Pinterest: http://www.pinterest.com/cheekysu/
"At BikeTexas, we're all about bicycles and bicycle advocacy. Most of us ride to work year-round, even through the Austin summer when 100°+ days are the norm. Our office also offers bike rentals during special events in town and hosts VIP bike rides for elected officials, plus other events that require our bike fleet. Between our fleet bikes and our personal bikes, it's hard to move around our office sometimes. We need a Dero Dream Bike Room so we have a dedicated space for staff bicycles as well as an easy-access, easy-to-use place to stage our bicycle fleet for events, all while keeping our floor space available for feet. We'd love to use our Dream Bike Room as a learning experience and a model for what indoor bike parking can look like at workplaces across Texas—especially when elected officials and city planners visit our office and get inspired. A Dero Dream Bike Room will help us make Texas a great place to ride a bike!"
Read official rules at http://www.dero.com/dreambikeroom.
About Dero
Since 1995, Dero has been supplying innovative bike parking and bicycle transit solutions to architects, contractors, municipalities, higher education, and parks and rec. Its bike racks, repair stands and pumps, shelters, and lockers are high quality, thoughtfully designed and secure. Dero also offers the award winning Dero ZAP, an automatic system to track bike commuters.Dero is located in Minneapolis and is proud to support biking locally and nationally.