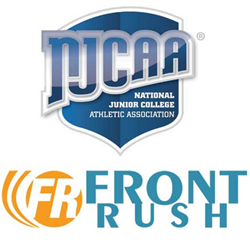 Colorado Springs, CO (PRWEB) April 23, 2014
The National Junior College Athletic Association (NJCAA) and its multimedia rights entity NJCAA Sports Properties announced today it has signed a corporate sponsorship agreement with Front Rush, securing exclusive pricing to the nation's leading recruiting software for its 520 member colleges across the country.
"Anytime we entertain a national partnership, we want to make sure it has the potential to benefit our member colleges, coaches and student-athletes," said NJCAA Executive Director Mary Ellen Leicht. "The services and products from Front Rush meets that standard. Our coaches and administrators have a lot on their plates and Front Rush could potentially help them be even more efficient in their efforts."
Front Rush specializes in providing cloud-based recruiting software for college coaches. With Front Rush, NJCAA athletic departments can stay on the same page when it comes to managing recruit, roster and alumni information. Front Rush's dedicated mobile apps give the ever-busy NJCAA coach access to his or her recruit data from virtually anywhere.
"There are roughly 7,000 NJCAA college coaches looking for an easier way to manage their recruit data," explains Front Rush CEO and Founder Brad Downs. "Front Rush's new partnership with the NJCAA will provide coaches and athletic departments access to the best tools available to keep up with the ever changing college recruiting space."
Over 6,200 college athletic programs representing more than 720 NJCAA, NAIA and NCAA colleges and universities are currently using Front Rush, making it the preferred recruiting software of college coaches across the country.
About Front Rush
Founded in 2006, Front Rush was launched with the goal of building the best and easiest-to-use recruiting software for college coaches. Founded and developed by former college athletes and coaches, Front Rush takes tremendous pride in providing a great product at an affordable price backed by awesome customer support. Learn more at http://www.frontrush.com.
About the NJCAA
Since 1938, the National Junior College Athletic Association (NJCAA) has been the governing body of two-year college athletics, offering athletic and academic opportunities to college students. The NJCAA is the second largest national intercollegiate athletic organization in the United States with over 500 member schools in 43 states. Each year, nearly 60,000 student-athletes compete in one of 28 different sports and the organization sponsors 48 national championship events and nine football bowl games. NJCAA Headquarters has been located in Colorado Springs, Colo., since 1985. For more information, visit http://www.njcaa.org.