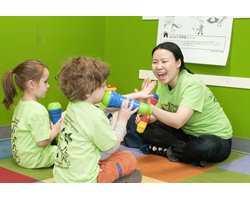 Chicago, IL (PRWEB) April 23, 2014
Language Stars, the national leader in early childhood foreign language education with locations throughout the Chicago, Washington DC and Baltimore metropolitan areas, announces the results of its "Voice of the Customer Survey" with an exceptional Net Promoter Score of 61%. The Net Promoter Score* is considered the worldwide standard for businesses to measure, understand and improve their customer experience. It helps companies profitably grow by focusing on their customers, providing a specific formula for measuring potential growth, and Language Stars is in the company of top performers.
Language Stars surveyed over 3,000 families enrolled in their language centers leveraging leading online survey software, Qualtrics. Parents were asked about teacher quality, likelihood of recommendation, program outcomes and the Language Stars experience. The survey revealed that overall, 99.7% of respondents would - recommend Language Stars to a friend.
"Our focus at Language Stars is to provide the highest quality language education for children in a full immersion, play-based environment," said Jamie Davidson, CEO of Language Stars. "While anecdotally, we knew our families were happy with our language centers based on the daily feedback we receive, it wasn't until we applied the Net Promoter methodology that we truly understood our high level of customer satisfaction."
Davidson continued: "The happiness of our students and their parents is of the utmost importance to us, and the fact that we saw such a high recommendation rate shows us that we are doing what we set out to do – offering an engaging learning experience for young children with the goal of providing exposure to a second language via our FunImmersion® program taught by native speaking teachers from over 20 countries around the globe."
The Net Promoter Score has helped companies like Apple Retail, Philips and American Express become truly customer-centric, unleashing profitable growth through systematically converting more customers into promoters. This is in line with the mission of Language Stars. Leslie Lancry, Founder of Language Stars says, "We built a company that focuses on language education for children and would not be where we are today without the support of our families. They help promote our business because they believe in our curriculum and our approach to teaching their children and are seeing results from our programs, and I couldn't ask for anything more!"
About Language Stars
Language Stars, the national leader in early childhood foreign language education, teaches full immersion play based language classes for kids between the ages of 1 and 10 years old focusing on the window of opportunity between birth and 10 years of age when a child's brain is hardwired to learn any language naturally and easily. Language Stars has 25 locations in the Chicago, Washington D.C. and Baltimore areas and is in 150 public and private schools, including preschools, elementary schools and middle schools. Language Stars currently reaches over 10,000 toddlers, preschoolers, and elementary students each week, helping them move toward proficiency in a foreign language, build cognitive skills and become sensitive to new cultures.
Language Stars has 15 locations in the Chicagoland area including Arlington Heights, Barrington, Chicago/Andersonville, Chicago/Hyde Park, Chicago/Lincoln Park, Deerfield/Lake Forest, Hinsdale/Oak Brook, Naperville, Wilmette/Evanston, Crystal Lake, Geneva/St. Charles, Homewood/Flossmoor, Orland Park, Park Ridge and Wheaton; 7 DC locations including Alexandria, VA, McLean/N. Arlington, VA, Fairfax, VA, Falls Church, VA, Reston, VA, Bethesda, MD and Gaithersburg, MD; and 3 locations in the Baltimore metropolitan area including Crofton, Ellicott City and Timonium. For more information, visit http://www.languagestars.com.
*Net Promoter Score and Net Promoter are trademarks of Satmetrix Systems, Inc., Bain & Company, Inc. and Fred Reichheld.