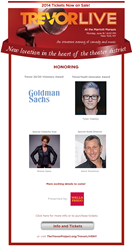 TrevorLIVE NY is bound to be a very entertaining evening.
New York, NY (PRWEB) April 23, 2014
The Trevor Project is proud to announce that five-time Emmy® Award-winning comedian and bestselling author Wanda Sykes will host TrevorLIVE in New York (TrevorLIVE NY) on June 16th at the Marriott Marquis, presented by Wells Fargo. Additionally, The Trevor Project will honor YouTube phenomenon and breakout star, Tyler Oakley with the Trevor Youth Innovator Award presented by Wells Fargo for his work to promote acceptance for LGBTQ (lesbian, gay, bisexual, transgender and questioning) youth and a greater understanding of suicide prevention. Goldman Sachs will also be honored with the Trevor 20/20 Visionary Award, which will be accepted by Chief Information Officer Marty Chavez. Multi-talented director, producer, and choreographer, Adam Shankman (ROCK OF AGES, HAIRSPRAY) will direct the show with special guests and Trevor Hero Award honoree to be announced.
TrevorLIVE is the premier gala event benefiting The Trevor Project. Presented annually in both New York and Los Angeles, this high-profile evening of music, comedy and entertainment on June 16th will celebrate 15 years of The Trevor Project's life-saving, life-affirming work to prevent suicide among LGBTQ youth. Tonight, the Eventi, a Kimpton Hotel, hosts the kick-off celebration for TrevorLIVE, featuring a special guest performance by Grammy and Tony-Award nominee Jeremy Jordan. The TrevorLIVE kick-off presented by Kimpton, is sponsored by Absolut, MillerCoors, Kraken Spiced Rum, Boodles Gin, Dobel Tequila, PS AV, and Garrett Popcorn.
"We are proud to announce our first two honorees at TrevorLIVE, Tyler Oakley and Goldman Sachs. For nearly 5 years, Tyler has been involved with The Trevor Project, using his skills and talents to empower LGBTQ youth to be proud of who they are, and to share life-saving, life-affirming messages of support," said Abbe Land, Executive Director and CEO of The Trevor Project. "Trevor 20/20 Visionary honoree, Goldman Sachs does a lot of positive work in the LGBT community, earning the company a 100% rating on the HRC Corporate Equality Index, and for several years, the active LGBT Network at Goldman Sachs has served The Trevor Project to help our suicide prevention programs grow."
Land continued, "In addition to amazing honorees, we are very excited that Adam Shankman, who has directed this event in Los Angeles since 2011, will be applying his creative skills to TrevorLIVE NY. Together with Wanda Sykes' wit and comedic genius, TrevorLIVE NY is bound to be a very entertaining evening."
The Chairs of TrevorLIVE NY are James Adams of Schreck, Rose, Dapello & Adams and Beth Brook of Ernst & Young, (2011 Trevor 20/20 Visionary Award). Honorary Co-Chairs of TrevorLIVE NY are Jesse Tyler Ferguson & Justin Nikita, Neil Patrick Harris & David Burtka, and Zachary Quinto. Event Vice-Chairs are Phil Armstrong, Brian Dorsey, Ralph Furlo, Matt Schwartz, David Suk, and Keola Whittaker. Tickets to TrevorLIVE NY may be purchased at: TheTrevorProject.org/TrevorLIVENY.
About the Trevor Project:
Founded in 1998 by the creators of the Academy Award®-winning short film TREVOR, The Trevor Project is the leading national organization providing crisis intervention and suicide prevention services to LGBTQ young people ages 13-24. Every day, The Trevor Project saves young lives through its accredited, free and confidential phone, instant message and text messaging crisis intervention services. A leader and innovator in suicide prevention, The Trevor Project offers the largest safe social networking community for LGBTQ youth, best practice suicide prevention educational trainings, resources for youth and adults, and advocacy initiatives. Learn more at TheTrevorProject.org.